Drug and Alcohol Clearinghouse is a Game Changer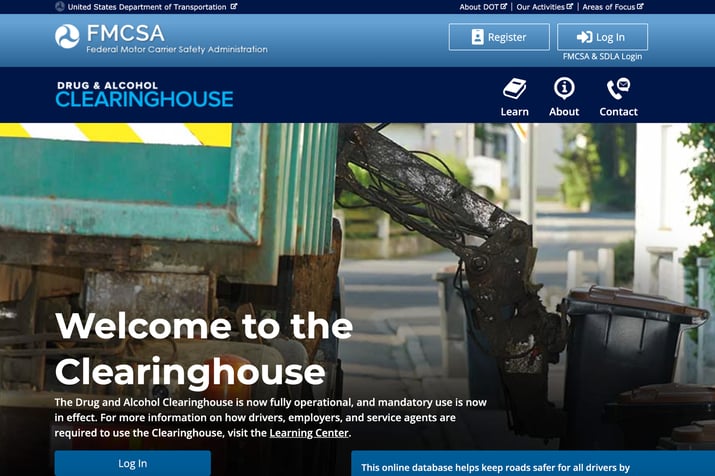 Technology is quickly catching up to the trucking industry, and the FMCSA's new Drug and Alcohol Clearinghouse is a game changer. On January 6, 2020, drug and alcohol violations for all CDL and CLP drivers began populating the Clearinghouse database, meaning motor carriers are now able to access these records in real-time by querying the Clearinghouse database. This capability is huge for employers, state licensing agencies, and law enforcement personnel because this real-time data makes it more difficult for drivers to conceal their drug and alcohol program violations.
Another benefit of the Clearinghouse is that it enables employers to make better-informed hiring and retention decisions. For the next three years, motor carriers will need to use the Clearinghouse and continue to fax, mail, or call previous employers to complete the required safety performance history checks. However, by January 6, 2023, the goal is to phase out the manual process. Employers will be able to accomplish the checks with a simple electronic query of the Clearinghouse, making compliance efforts much easier.
From a risk management standpoint, the Clearinghouse can also help motor carriers defend themselves from claims of negligent hiring or negligent retention. Query results will show if an applicant or employed driver has any previous positive drug or alcohol test results on record or any refusals to test, and if a driver completed the return-to-duty (RTD) process and follow-up testing. When obtained by an employer, these records can be used to demonstrate a motor carrier's due diligence, especially when used in conjunction with other screening and qualification methods (i.e., road tests, Pre-Employment Screening Program reports, interviews, etc.).
For all the benefits the Clearinghouse offers, it does not absolve employers from meeting the requirements set forth in 49 CFR Parts 40 and 382. Those regulations have not changed. Motor carriers or their designated users such as Consortium/Third-Party Administrators (C/TPA) must register in the Clearinghouse and purchase a query plan sufficient to cover their preemployment screening needs as well as all annual or periodic ad hoc queries on employed drivers. These records and all information received in response to a query must be retained by the employer for three years. If a drug or alcohol violation is reported to the Clearinghouse, those records must be kept by the employer for five years.
To learn more about how queries work, refer to the flow diagrams on p. 16-17 of the Spring 2020 Safety Talk. Also, FMCSA's Clearinghouse website contains several resources to help employers and employees understand their responsibilities. For more information, go to https://clearinghouse.fmcsa.dot.gov/ or contact your Great West agent or safety representative.
CALL TO ACTION
Register in the Clearinghouse and purchase a query plan.

Designate an individual at your company to be your Clearinghouse Administrator.

Conduct training with operations staff and drivers on how the Clearinghouse works and will affect them.
Note: These lists are not intended to be all-inclusive.
The information in this article is provided as a courtesy of Great West Casualty Company and is part of the Value-Driven® Company program. Value-Driven Company was created to help educate and inform insureds so they can make better decisions, build a culture that values safety, and manage risk more effectively. To see what additional resources Great West Casualty Company can provide for its insureds, please contact your safety representative, or click below to find an agent.
© Great West Casualty Company 2020. The material in this publication is the property of Great West Casualty Company unless otherwise noted and may not be reproduced without its written consent by any person other than a current insured of Great West Casualty Company for business purposes. Insured should attribute use as follows: "© Great West Casualty Company 2020. Used with permission by Great West Casualty Company."
This material is intended to be a broad overview of the subject matter and is provided for informational purposes only. Great West Casualty Company does not provide legal advice to its insureds, nor does it advise insureds on employment-related issues. Therefore, the subject matter is not intended to serve as legal or employment advice for any issue(s) that may arise in the operations of its insureds. Legal advice should always be sought from the insured's legal counsel. Great West Casualty Company shall have neither liability nor responsibility to any person or entity with respect to any loss, action, or inaction alleged to be caused directly or indirectly as a result of the information contained herein.