Are You Ready? The Time Is Now – ELD Return on Investment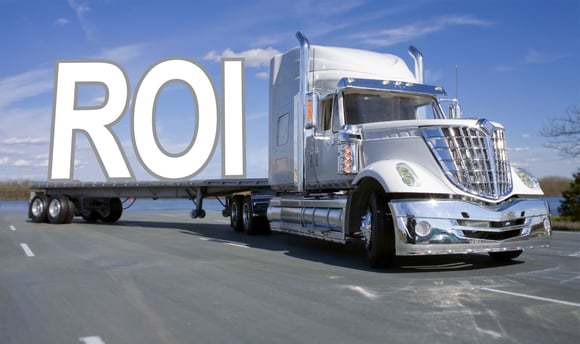 This is meant to be a summary of information contained in the rule. Be sure to review the rule and seek any legal advice from counsel. This material contains suggestions, and companies should find an approach that fits their unique operations best.
Carriers, are you looking for your return on investment (ROI) with these electronic logging devices (ELDs)? A carrier can fall into several traps when it comes to ELD systems if the discussion is not held. One of the main traps is spending too much or too little on the system and not achieving an ROI due to the system you selected. One of the traditional arguments against switching a company over to ELDs before required by the mandate has been the cost. However, there are two factors that need to be considered when looking at cost:
The cost of the system
The ROI the company will see from using the devices
The cost of the systems has shrunk throughout the years. The back-office systems used by many providers are now web-based, meaning that no special software or hardware is required. All that is needed is a computer with internet access.
However, if you are looking only at cost, you are looking at only one side of the financial equation. To get a complete picture, you also need to look at cost reductions, savings, and other gains the system will bring. In other words, you need to sit down and do an ROI calculation before saying that the cost of a system is too high.
Check which box represents your future goals pertaining to ELD's:
I am implementing an ELD system for the sole purpose of being compliant to the ruling and do not want or need any added features out of the fundamental requirements.
I am looking for a more comprehensive solution that addresses multiple issues within our company and goes beyond just being compliant. I want to meet a broader range of safety goals.
Before you make a decision, you need to determine your company's overall goals and what you really want in an ELD system. Ask yourself: Do I want to reduce fuel costs and out-of-route miles? Do I need to increase driver safety and morale? What about GPS navigation and mobile access? ELDs have so many options and interfaces that it really can be customizable; you just need to determine the direction that fits your fleet.
If you checked the first box, you're looking for a simple ELD that fulfills all basic requirements. Here are some features you need to look for:
Integral synchronization with the commercial motor vehicle engine
Recording location information
Graph grid display
Device default duty status: driving time will automatically be calculated; once motion is detected, the ELD will automatically transition the driver to drive time status
Data transfer capability by web services, Bluetooth, email, or print
Resistance to tampering
Identification of sensor failures and edited data
If you checked the second box, you're looking for a more comprehensive solution and want a system that will help your company meet a broader range of goals to increase safety and improve efficiencies. These added features could include:
Automated check calls to locate trucks in the field
Automated Driver Vehicle Inspection Reports (eDVIR) to eliminate paper records
Automated fuel tax reporting to compute IFTA, mile, IRP, and other taxes
In-cab messaging to enable communication between drivers and dispatch
In-cab navigation to improve fuel economy and reduce out-of-route miles
In-cab scanning to replace manual forms and paperwork
In-cab multimedia training to improve driver performance
Lane departure warnings to increase safety and reduce accidents
Mobility apps to give drivers access to information outside of the cab
On-board event recording to monitor events such as hard braking and sudden acceleration
Remote diagnostics to improve fleet health and reduce downtime
Speed monitoring and alerts
Tire pressure monitoring to optimize performance and reduce maintenance costs
Trailer management and reefer temperature monitoring
Weigh station bypass technology to reduce time spent at inspection sites
Video capturing systems to protect your drivers and prevent accidents
Wi-Fi to give drivers access to third-party apps and the web while off duty
It is important to consider more than just the price of the ELD systems. Taking the time to complete some ROI calculations will enable a carrier to realize the many benefits ELDs can offer.
The information in this article is provided as a courtesy of Great West Casualty Company and is part of the Value-Driven® Company program. Value-Driven Company was created to help educate and inform insureds so they can make better decisions, build a culture that values safety, and manage risk more effectively. To see what additional resources Great West Casualty Company can provide for its insureds, please contact your Safety Representative, or click below to find an agent.
© Copyright Great West Casualty Company 2017. The material in this publication is the property of Great West Casualty Company unless otherwise noted and may not be reproduced without its written consent by any person other than a current insured of Great West Casualty Company for business purposes. Insured should attribute use as follows: "Used with permission by Great West Casualty Company."
This material is intended to be a broad overview of the subject matter and is provided for informational purposes only. Great West Casualty Company does not provide legal advice to its insureds, nor does it advise insureds on employment-related issues. Therefore, the subject matter is not intended to serve as legal or employment advice for any issue(s) that may arise in the operations of its insureds. Legal advice should always be sought from the insured's legal counsel. Great West Casualty Company shall have neither liability nor responsibility to any person or entity with respect to any loss, action, or inaction alleged to be caused directly or indirectly as a result of the information contained herein.