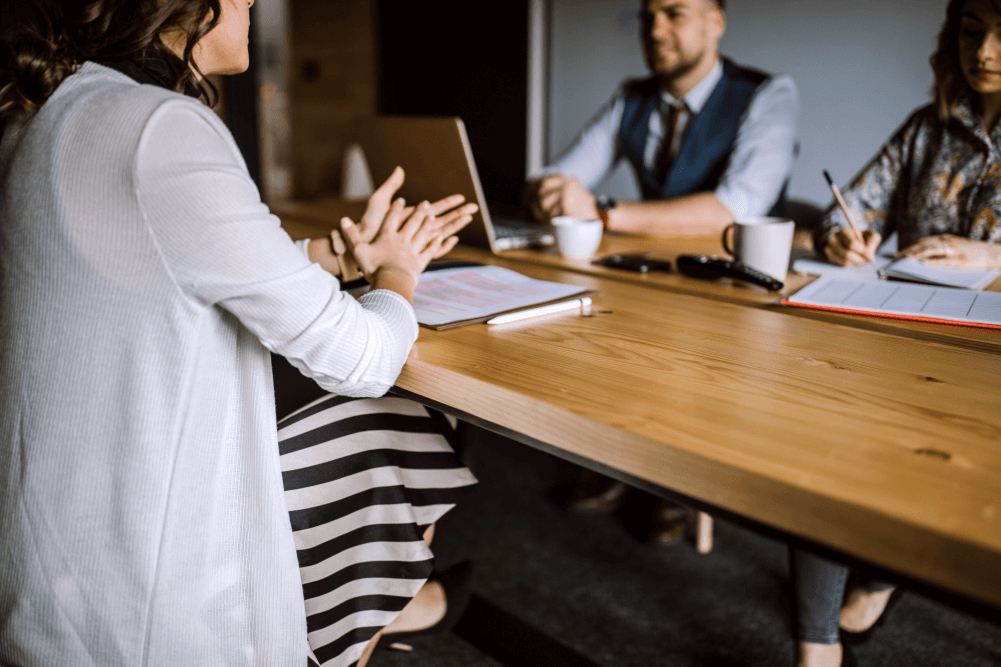 You did it! Your resume resolutions paid off, and now you're scheduled for an interview. Time to brush up on interview etiquette with "Say This, Not That! Interview Edition."
Say this: "It's nice to meet you, Tom."
Not that: "Sorry, I'm late."
Be punctual by leaving extra travel time for potential issues like weather, traffic, or construction. If you've never been to the location before, it wouldn't be a bad idea to drive to it before your interview day. So, you've followed our guidance and arrived (much too) early for the interview. Should you go in? It depends. Head in for your interview about 15 minutes in advance, and if you have some cushion time, re-read your resume, freshen up on the latest company news, or jot down a few more questions for the interviewer.
Say this: "My understanding of your company is…"
Not that: "I don't know much about your company."
One of the most egregious errors you can make when interviewing is coming unprepared. This is never truer than when you're asked the question, "What do you know about our company?" Don't be caught off guard. Research the company ahead of time through their website, social media, and any connections you may have there.
Say this: "(All of the things you're great at and why you should get this job.)"
Not that: "Sorry, I forgot to turn my phone off."
No, we're not at the movies, but can you please silence your cell phones, tablets, and smartwatches? Nothing is more distracting than competing communications coming from your purse, pocket, or wrist midway through an interview. Before you get out of your car to come in for the interview, turn off or silence your devices.
Say this: "While I've gained some experience in customer service at my current job, I am looking for a new challenge and a company that values its employees."
Not that: "The work is so boring, and they don't give a @*$% about their employees."
It seems obvious, right? Do not swear, no matter how much you're jiving with the interviewer. Another obvious no-no that's worth repeating: Don't speak negatively about your current or former employer, coworkers, or clients. If asked what you didn't like about your previous job, employer, or work environment, keep it positive by stating what you are looking for now, rather than focusing on the negatives of your past.
Say this: "That project was a team effort, and I was happy to contribute to reaching our goal."
Not that: "I did all of the work for that project, which is why I met my goal."
Give credit where credit is due and take credit when credit is due. The point is this: Be truthful. As hiring professionals, we can often see through a candidate's lies, and even if we don't at the time, we will once we contact your references. Just be honest, people.
Say this: "Can you tell me a bit more about the dynamics of your team?"
Not that: "I don't have any questions."
Always bring questions to your interview. The questions should provide you with insights into what it's like to work there. What happens if you had all of your questions answered earlier in the interview? Be thinking of question ideas during your discussions; maybe identify some topics that could be elaborated on such as committee involvement, new-hire training, the work environment, etc.
Say this: "Thank you for taking the time to meet with me about this position."
Not that: (crickets chirping)
Mind your manners, and send a thank-you note after your interview. Check out our recent blog post for a free "thank you" postcard template!
---
At Great West, we hire great people for great careers. Ready to take the next step to great? Join our Talent Community for job alerts, company updates, and priority resume review.
---
This blog post was created by Megan L., Talent Acquisition Specialist at Great West Casualty Company.
© Great West Casualty Company 2019. The material in this publication is the property of Great West Casualty Company unless otherwise noted and may not be reproduced without its written consent by any person other than a current insured of Great West Casualty Company for business purposes. Insured should attribute use as follows: "© Great West Casualty Company 2019. Used with permission by Great West Casualty Company."
This material is intended to be a broad overview of the subject matter and is provided for informational purposes only. Great West Casualty Company does not provide legal advice to its insureds, nor does it advise insureds on employment-related issues. Therefore, the subject matter is not intended to serve as legal or employment advice for any issue(s) that may arise in the operations of its insureds. Legal advice should always be sought from the insured's legal counsel. Great West Casualty Company shall have neither liability nor responsibility to any person or entity with respect to any loss, action, or inaction alleged to be caused directly or indirectly as a result of the information contained herein.