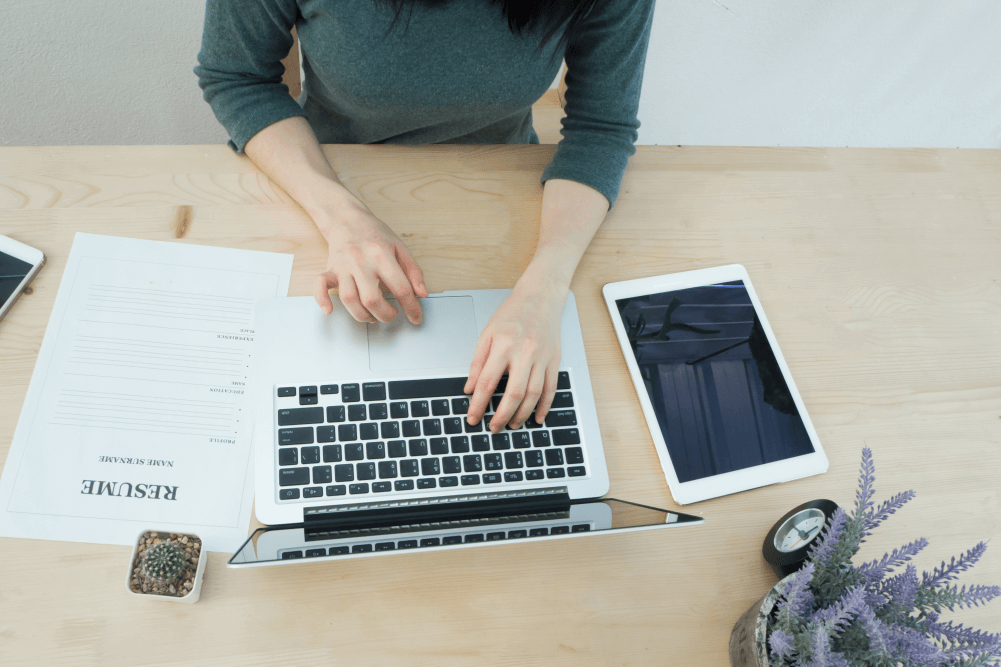 It's a new year and time to make resolutions to help us reach our goals. For many, finding a new job is a major goal and can be overwhelming. Fortunately, our recruitment experts are here to help with some resume resolutions to set you up for success.
Looks matter – for resumes, that is.
Never underestimate the power of a visually appealing resume or, worse, an ugly resume. Check the following list of visual items to ensure you're painting a pretty picture.
Consistency: Make sure you have consistent spacing in the margins, between paragraphs or sections, and from line to line to give your resume the perfect amount of white space. While you're formatting, stick to one font style, maybe two, and select a font that looks professional. Sizing of the font is just as important as choosing the right one. If you choose to use more than one font size, go at least two points higher or lower than the other font size so that it doesn't look like a mistake (i.e., If the titles are size 12, make the text underneath size 10.).
Clarity: Your resume should have clearly labeled sections to outline your work experience, education, and volunteer experience. If you're a new grad, place your education at the top. For experienced professionals, start with your work experience.
Creativity: Unless you are applying for a creative role such as a graphic designer or social media manager, keep colors and extra design elements to a minimum. Creative folks: Go reasonably wild.
Proofread: When you describe yourself as a detail-oriented candidate, a resume mistake is like a nail in the coffin. Take the time to review it closely and have another person also check it over for errors.
Your verb tense is making us tense.
Grammar, spelling, and appropriate verb tense matter. Utilize online tools such as Grammarly for proofreading help, or ask a grammar-savvy friend to help with edits. Using the proper verb tense, past or present, always wins favor with recruiters and hiring managers. Make sure to start each line with an action verb and avoid the use of "I" or "we" when drafting your details.
---

DID YOU KNOW? In case you've been living under a rock, we're here to break some news to you: On average, recruiters review a resume for only seven seconds before making a yes or no judgment for further consideration.

---
It's so fluffy!
Now that you know time is of the essence, it's time to cut the fluff and get to the point. Unless you have more than ten years of relevant experience, keep your resume to one page. Here are some items to keep or cut:
| | |
| --- | --- |
| KEEP | CUT |
| Contact information – Name, phone number, professional email address | References – We'll ask for them when we need them. |
| Objective statement – Not required but sometimes helpful | Personal information – Social security number, date of birth, marital status, etc. |
| Certifications, volunteer experience, awards or recognitions | High school information |
| Keywords that help you be found in the age of AI | Unnecessary descriptive words |
Don't skimp on the necessary details – your job experience and accomplishments. Take time to customize your resume to each job you're applying for and tell a story when doing so. Recruiters and hiring managers want to know what you accomplished as opposed to your basic responsibilities. Bullet points are always preferred for ease of reading.
Example: Instead of "Managed the content creation on Facebook," say "Increased Facebook page engagement 50% YOY by strategically managing content creation."
Are you having a hard time keeping the content to one page? Provide a link on your resume to your LinkedIn profile or professional website so that the recruiter can view your entire portfolio.
Non-Job Seeker Tip: Take time to update your resume while you're in your current role so you don't forget important tasks, achievements, or projects later on. You'll be glad you made those quick notes when the time comes to start searching for something new.
The truth will set you free.
It's easy to get caught up over-emphasizing your accomplishments in the hopes of landing the interview. Whatever you do, don't lie on your resume. As hiring professionals, we have a keen eye for red flags that might signal an inaccuracy or an untrustworthy applicant.
Cheers to a new year and a new career!
---
At Great West, we hire great people for great careers. Ready to take the next step to great? Join our Talent Community for job alerts, company updates, and priority resume review.
---
This blog post was created by Megan L., Talent Acquisition Specialist at Great West Casualty Company.
© Great West Casualty Company 2019. The material in this publication is the property of Great West Casualty Company unless otherwise noted and may not be reproduced without its written consent by any person other than a current insured of Great West Casualty Company for business purposes. Insured should attribute use as follows: "© Great West Casualty Company 2019. Used with permission by Great West Casualty Company."
This material is intended to be a broad overview of the subject matter and is provided for informational purposes only. Great West Casualty Company does not provide legal advice to its insureds, nor does it advise insureds on employment-related issues. Therefore, the subject matter is not intended to serve as legal or employment advice for any issue(s) that may arise in the operations of its insureds. Legal advice should always be sought from the insured's legal counsel. Great West Casualty Company shall have neither liability nor responsibility to any person or entity with respect to any loss, action, or inaction alleged to be caused directly or indirectly as a result of the information contained herein.