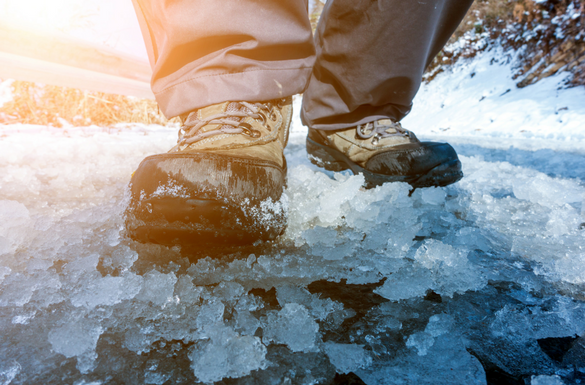 Slips are the result of a person losing balance or footing due to a lack of friction between the foot and the ground. Falls that result from slipping are the leading cause of workplace injuries. From cuts and bruises to broken bones, traumatic brain injuries, and even death, a simple loss of traction could seriously jeopardize your quality of life. The key to protecting yourself is recognizing the hazards that can lead to slips and falls and knowing how to reduce your risk of injury.
Recognize the Hazards
Environment equipment
Contaminants on the floor




Snow and ice in the parking lot

Water in the bathroom

Spilled drink in the break room

Oil on the shop floor

Polished or waxed floors

Dust on the loading dock floor

Floor irregularities

Buckled carpets and mats

Uneven floors, like steps or stairwells

Floor openings, like service pits or loading docks

Sloped ramps

Broken sidewalks or potholes

Low-lit areas that reduce visibility

Service pits

Areas around the truck at night

Tractor steps worn or covered with ice, snow, and mud
Personal behaviors
Failing to use three-point contact when climbing in or out of the cab or trailer

Wearing improper footwear

Cowboy boots, flip flops, sandals, etc.

Hurrying

Distracted walking

Talking on cell phone

Conversing with another person

Eating or drinking
Know The Defense
Essential 7 Driving Techniques
Be attentive to surroundings

Check the ground for hazards ahead

Avoid distractions

Do not talk or text on a cell phone while walking

Avoid watching videos on mobile devices when walking

Check messages and status updates while standing still or sitting

Keep your eyes focused on the path ahead while walking and conversing with others

Practice good housekeeping

Clean up spills on the floor

Pick up objects that others could slip on

Sweep floors to remove dust and dirt

Communicate hazards immediately

Ask for help if you can't remove a hazard by yourself

Never leave a hazard for someone else to slip on

Follow established safety procedures

Utilize three-point contact when climbing on/off equipment or ladders

Use two hands and one foot or one hand and both feet and face the vehicle

Walk, do not run or hurry

Take shorter steps for stability

Keep your hands free of objects for balance

Utilize personal protective equipment

Wear shoes with slip-resistant soles

Use a flashlight in low-lit areas
Note: These lists are not intended to be all-inclusive.
The information in this article is provided as a courtesy of Great West Casualty Company and is part of the Value-Driven® Company program. Value-Driven Company was created to help educate and inform insureds so they can make better decisions, build a culture that values safety, and manage risk more effectively. To see what additional resources Great West Casualty Company can provide for its insureds, please contact your safety representative, or click below to find an agent.
© Great West Casualty Company 2018. The material in this publication is the property of Great West Casualty Company unless otherwise noted and may not be reproduced without its written consent by any person other than a current insured of Great West Casualty Company for business purposes. Insured should attribute use as follows: "© Great West Casualty Company 2018. Used with permission by Great West Casualty Company."
This material is intended to be a broad overview of the subject matter and is provided for informational purposes only. Great West Casualty Company does not provide legal advice to its insureds, nor does it advise insureds on employment-related issues. Therefore, the subject matter is not intended to serve as legal or employment advice for any issue(s) that may arise in the operations of its insureds. Legal advice should always be sought from the insured's legal counsel. Great West Casualty Company shall have neither liability nor responsibility to any person or entity with respect to any loss, action, or inaction alleged to be caused directly or indirectly as a result of the information contained herein.