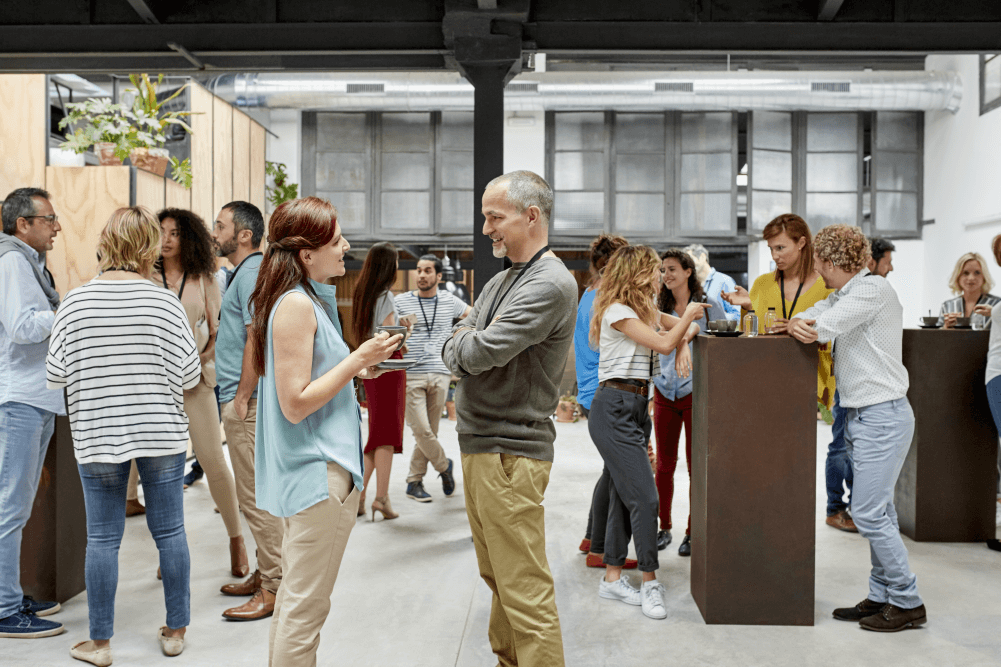 Friday the 13th gets a reputation for bad luck. Let's shake things up and take your job search luck from bad to great with a little help from our recruitment team. We're ready to deliver you some networking tips that can help improve your job search luck.
What is networking?
Networking, which is making and developing connections with other people, can be done in a variety of ways. Here are some suggestions to build your network:
Connect with coworkers, both inside and outside your department.
Join a special interest group or professional organization.
Volunteer.
Attend fundraising or community events.
Connect with alumni associations for your alma mater.
Join relevant LinkedIn groups and participate in them.
---
DID YOU KNOW? Networking is as essential to a job search as is searching the internet for job listings, and here's why: Employee referrals are the mecca of candidates for recruiters. They provide us with the biggest return on investment, a reduced time to hire, better candidates, lower turnover, and an increase in profits. From the candidate perspective, things are looking pretty fortunate - one out of every five employee referrals gets hired. So, how can you get referred for a job? Build your network.
---
Confidence is key.
There is a special sub-set of the population that thrives in situations where they get to talk to and meet new people. For the rest of us who shudder at the thought of having to strike up a conversation with a stranger, networking can be daunting. I'm here to tell you, while the first step is often the hardest, it is also the simplest: Say hi. Most people will be happy to engage with a new connection, and hey, you might luck out and connect with one of those cool extroverts who make networking a fun experience!
Be passionate.
People are typically drawn to other passionate people. Whether you have an obsession with amazing graphic design or you get giddy over a well-designed spreadsheet, show others you are passionate about something. Who knows, that passion might translate to a need they have for their business (ahem, job offer).
Listen up!
A word of caution: Networking isn't all about you. It is a two-way relationship. While it is great to demonstrate your passion or value, you also need to get to know the other people you meet. Ask about their interests, goals, and accomplishments. Genuinely listen. Through these conversations, you may find that not every person you meet is a great connection, and that is okay.
It's called net"work"ing.
Networking is an on-going process and takes a bit of, you guessed it, work. While it's great to build your network, maintaining your current connections is just as important as adding new ones. Stay in touch with your contacts by inviting them for coffee or sharing a LinkedIn article that might be interesting to them.
We're sending good vibes your way as you turn your job search luck around with these networking tips.
---
At Great West, we hire great people for great careers. Ready to take the next step to great? Join our Talent Community for job alerts, company updates, and priority resume review.
---
This blog post was created by Megan L., Talent Acquisition Specialist at Great West Casualty Company.
© Great West Casualty Company 2019. The material in this publication is the property of Great West Casualty Company unless otherwise noted and may not be reproduced without its written consent by any person other than a current insured of Great West Casualty Company for business purposes. Insured should attribute use as follows: "© Great West Casualty Company 2019. Used with permission by Great West Casualty Company."
This material is intended to be a broad overview of the subject matter and is provided for informational purposes only. Great West Casualty Company does not provide legal advice to its insureds, nor does it advise insureds on employment-related issues. Therefore, the subject matter is not intended to serve as legal or employment advice for any issue(s) that may arise in the operations of its insureds. Legal advice should always be sought from the insured's legal counsel. Great West Casualty Company shall have neither liability nor responsibility to any person or entity with respect to any loss, action, or inaction alleged to be caused directly or indirectly as a result of the information contained herein.