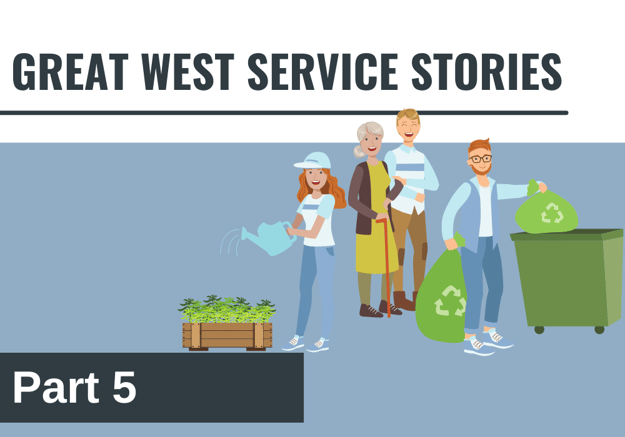 The tagline on our logo and one of our core values; service is a prominent part of our everyday lives, both at work and in the community. Great West and its employees have a tradition of giving back, and although there is a current pandemic, we continue to find unique ways to better the communities in which we live and work. Here are their stories.

The Hope Center Pantry has been a dream that our church, Sunnybrook Community Church, has had for some time. In 2019, things started to come together so we could finally open that pantry. Someone was asked to take the lead on the project, and parts of our building were remodeled to accommodate a mini grocery store. Our vision was to offer shopping to our guests, based on a points system determined by the size of their families.
We officially opened on January 7, 2020, after a test run the night before to make sure we were ready to serve. On the first day, Tuesday morning, we served 110 families! That far exceeded our expectations for the first day we were open!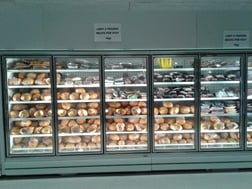 Our guests enjoyed being able to shop and pick out the items that they wanted instead of just being handed a box of groceries. And we enjoyed helping them shop and meeting their needs.
Then COVID hit. We had to quickly change the way we operated our pantry, at least temporarily. No more grocery shopping, just a drive-through where we brought boxes and extra items to the trunks of the cars and our guests did not leave their vehicles. It was sad not being able to visit with our guests, but at least we were still helping to meet their needs. Through our first year, we served 2,809 families across Siouxland. We served 306 families served per week with more than 700,000 pounds of food distributed, creating 600,000 meals. There are 438 different volunteers who serve in the pantry.
Most Thursday nights, you will find me helping somewhere in the pantry. It is a privilege to be able to serve. Being part of this project has really opened my eyes to the need right here in our community and reminds me how blessed we are to have so much and to be able to use our resources to help others.

In November, the Knoxville team hosted a food drive for Second Harvest Food Bank of East Tennessee. Through contact-free drop off, we gathered 135 pounds of food! This enabled Second Harvest to provide 112 meals to those in need.
---
At Great West, we hire great people for great careers. Ready to take the next step to great? Join our Talent Community for job alerts, company updates, and priority resume review.
---
This blog post was created by Megan L., Great West Casualty Company HR Communications Specialist.
© Great West Casualty Company 2021. The material in this publication is the property of Great West Casualty Company unless otherwise noted and may not be reproduced without its written consent by any person other than a current insured of Great West Casualty Company for business purposes. Insured should attribute use as follows: "© Great West Casualty Company 2021. Used with permission by Great West Casualty Company."
This material is intended to be a broad overview of the subject matter and is provided for informational purposes only. Great West Casualty Company does not provide legal advice to its insureds, nor does it advise insureds on employment-related issues. Therefore, the subject matter is not intended to serve as legal or employment advice for any issue(s) that may arise in the operations of its insureds. Legal advice should always be sought from the insured's legal counsel. Great West Casualty Company shall have neither liability nor responsibility to any person or entity with respect to any loss, action, or inaction alleged to be caused directly or indirectly as a result of the information contained herein.