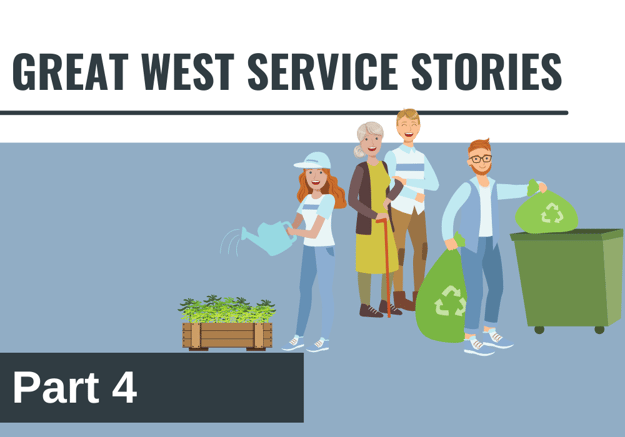 The tagline on our logo and one of our core values; service is a prominent part of our everyday lives, both at work and in the community. Great West and its employees have a tradition of giving back, and although there is a current pandemic, we continue to find unique ways to better the communities in which we live and work. Here are their stories.

Growing up, my grandpa's favorite holiday was Christmas. He loved giving and the feeling of bringing joy to others. The entire family would gather around the tree, and he would pass each gift and each card to everyone personally, whether he brought the gift or not. In his older years, he moved into a nursing home and eventually was bound to a wheelchair. That did not stop him from wanting to give to others but made it difficult because of his new surroundings.
My wife and I came up with the idea to create homemade Christmas cards for the entire nursing home where he lived and sign them from "the Jumper family." We did this for many years. After Thanksgiving, the four of us in our home got together to create these cards, each one unique. The process took a few days, but the results were great! Each card was placed in an envelope and folded shut so that the residents could easily open them. We packaged the envelopes and mailed them to the facility with instructions to have one of my aunts help deliver the cards.
As it turns out, Grandpa opened each card and then went from room to room at the facility to visit with each resident and deliver a card. He also made sure to stop and visit with all facility staff members individually, giving each one a card as well. This was well received by the facility and brought joy and happiness to everyone involved.

Fifteen years ago, my wife and I started making visits to our local hospital with our first therapy dog, Lucky. We had no idea the impact the therapy dog program would have on our lives and those of with whom we have visited over the years.
Several years ago, we started to go to local colleges during finals week to allow the students to unwind during their studies. Our local public library has us bring the dogs in for their "read-to-me" program and for Halloween; I think the dogs enjoy those visits as much as the kids do.
We currently have two certified therapy dogs in the program. Gracie, our eleven-year-old border collie / golden retriever, and Baloo, our nine-year-old blue tick coonhound. Gracie handles most of our hospital visits while Baloo does most of the library and college visits. Gracie is having ACL surgery and will be laid up for eight weeks, so Baloo will be trying to fill her paws at the hospital to start the year.
In February 2020, the hospital had to pause our visits due to COVID, which was disappointing but necessary at the time. Finally, in September, with safety protocols in place at the hospital, we were allowed to start visiting again. While we were apprehensive about going back for visits, we knew it would be well received at the hospital. That first day back was something we will never forget.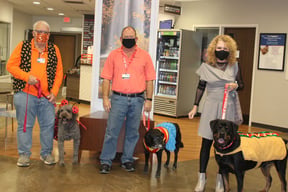 We normally visit three floors; the ICU is our last stop. When we walked into the ICU, we were overwhelmed by the reaction of all the nursing staff. They were so thankful to see the dogs again. Several of them sat down on the floor and hugged our dogs while crying as they were overcome by the joy of seeing the dogs. We knew that our dog visits were important, but that day in September will be a memory that we will never forget. The memory makes it all worthwhile.
---
At Great West, we hire great people for great careers. Ready to take the next step to great? Join our Talent Community for job alerts, company updates, and priority resume review.
---
This blog post was created by Megan L., Great West Casualty Company HR Communications Specialist.
© Great West Casualty Company 2021. The material in this publication is the property of Great West Casualty Company unless otherwise noted and may not be reproduced without its written consent by any person other than a current insured of Great West Casualty Company for business purposes. Insured should attribute use as follows: "© Great West Casualty Company 2021. Used with permission by Great West Casualty Company."
This material is intended to be a broad overview of the subject matter and is provided for informational purposes only. Great West Casualty Company does not provide legal advice to its insureds, nor does it advise insureds on employment-related issues. Therefore, the subject matter is not intended to serve as legal or employment advice for any issue(s) that may arise in the operations of its insureds. Legal advice should always be sought from the insured's legal counsel. Great West Casualty Company shall have neither liability nor responsibility to any person or entity with respect to any loss, action, or inaction alleged to be caused directly or indirectly as a result of the information contained herein.