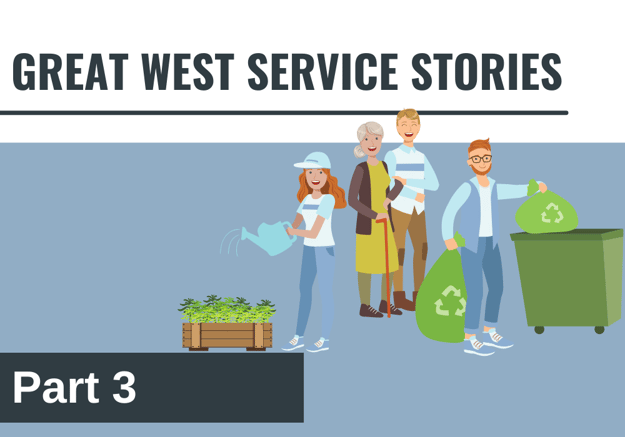 The tagline on our logo and one of our core values; service is a prominent part of our everyday lives, both at work and in the community. Great West and its employees have a tradition of giving back, and although there is a current pandemic, we continue to find unique ways to better the communities in which we live and work. Here are their stories.

Having been introduced to Special Olympics by friends, my wife and I have had the privilege of working with many aspects of Special Olympics Idaho over the past 10 years. Specifically, from 2016-2019, my wife and I coordinated the golf program for Southwest Idaho. This consisted of overseeing team formation, practice, and, ultimately, the yearly Special Olympics Games Golf Tournament for about 75 athletes from Southwest Idaho.
Our most memorable accomplishment with Special Olympics was taking 33 Idaho Special Olympics Athletes to the USA Games in Seattle, Washington, in July 2018. It was a trip we will never forget. It was every bit being a part of any regular Olympic games. We coached/caddied for 2 Idaho golf delegates and helped ride herd on the rest of the athletes, making sure they were on task with event schedules, meals, laundry, and all aspects of normal life that varied from person to person. It was an exhausting but extremely rewarding time.
If you wish to become involved with Special Olympics, each state has its own Special Olympics branch. There are geographical teams within each state. A person can contact the main office to find out about volunteer opportunities in his/her home area. Special Olympics also has social media pages for national, state, and even individual teams.

I have been a CASA volunteer (Court Appointed Special Advocate) since October 2016. I wanted to give back to my community and enjoy helping children, so CASA seemed to be a great fit for me.
CASA becomes involved at the request of a judge when a child is identified as being in an unsafe environment that could stem from alcohol, drugs, physical, and/or sexual abuse. At this point, the child is usually removed from the home and placed with a relative, foster home, or shelter. I am the eyes and the ears for the judge and work in conjunction with the County Attorney, Department of Human Services, and the attorney for the child to reunite the child with the parent(s) or find a suitable other placement.
This role has helped me understand the difficulties of the system and how those who deal with this on a day-to-day basis can easily become jaded. I go into the case with my eyes wide open and stay neutral to come up with my own opinions of what the facts of the case are; this open-minded perspective helps me to move forward with recommendations to the judge. I have learned that things aren't always as they seem, and stereotypes are ever present.
Each case usually lasts approximately one year, and I am allowed a maximum of two cases at one time. I am happy to say the majority of my cases have had happy endings! This is the most rewarding part of the role because I have contributed to being a positive influence for that child and family.
---
At Great West, we hire great people for great careers. Ready to take the next step to great? Join our Talent Community for job alerts, company updates, and priority resume review.
---
This blog post was created by Megan L., Great West Casualty Company HR Communications Specialist.
© Great West Casualty Company 2021. The material in this publication is the property of Great West Casualty Company unless otherwise noted and may not be reproduced without its written consent by any person other than a current insured of Great West Casualty Company for business purposes. Insured should attribute use as follows: "© Great West Casualty Company 2021. Used with permission by Great West Casualty Company."
This material is intended to be a broad overview of the subject matter and is provided for informational purposes only. Great West Casualty Company does not provide legal advice to its insureds, nor does it advise insureds on employment-related issues. Therefore, the subject matter is not intended to serve as legal or employment advice for any issue(s) that may arise in the operations of its insureds. Legal advice should always be sought from the insured's legal counsel. Great West Casualty Company shall have neither liability nor responsibility to any person or entity with respect to any loss, action, or inaction alleged to be caused directly or indirectly as a result of the information contained herein.