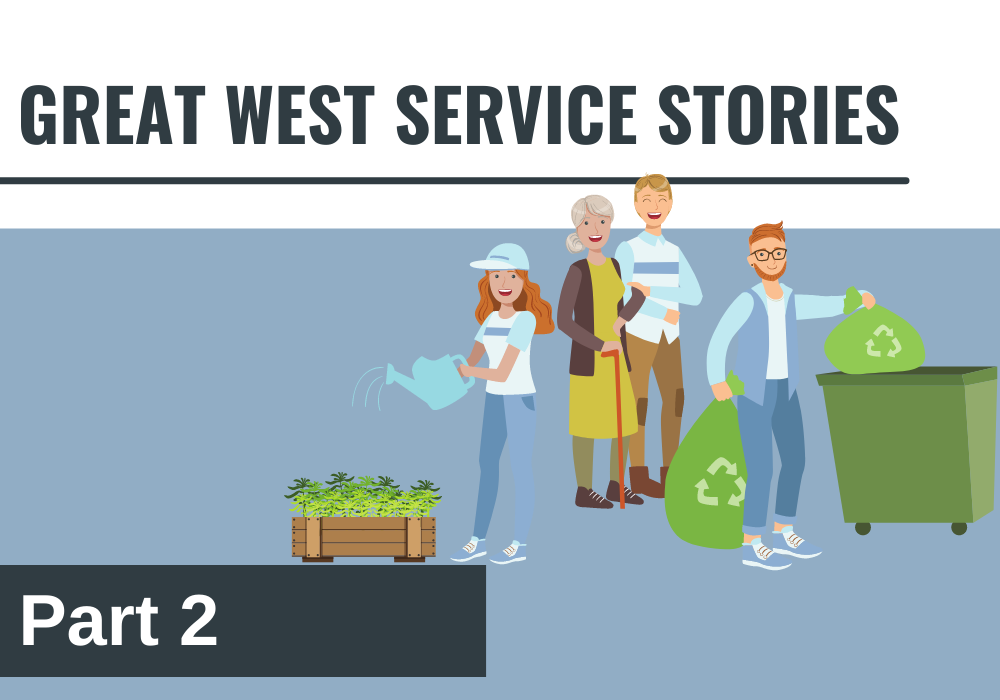 The tagline on our logo and one of our core values; service is a prominent part of our everyday lives, both at work and in the community. Great West and its employees have a tradition of giving back, and although there is a current pandemic, we continue to find unique ways to better the communities in which we live and work. Here are their stories.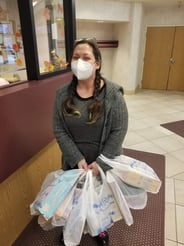 The pandemic has made everyone's lives so difficult, and most people aren't aware of all the ways it trickles down. Here in Sioux City, we have a psychiatric medical institution for children, and because of the pandemic, they were unable to spend the holidays at home. For many of these children, going home for holidays is the only normalcy they experience and look forward to. To help fill their days while they're at the facility, I purchased many different kinds of games and crafts deemed safe and appropriate for them by the staff. Unfortunately, there are no volunteering opportunities available due to the isolation, so I helped in the way I could.

Besides my normal church work and posting a daily encouraging scripture on Facebook every morning, I have also been sending my department a "bookmark of the day" at least once each week. It consists of an encouraging phrase to get us through these times—and sometimes it is funny, too! I am also painting free angel paintings for those who lost a loved one or an animal.
I wrote a children's book called The Rusty Red Semi, which tells the life story of a semi from the moment it rolls off the line to when it becomes old and rusty, unable to make it up the last mountain to deliver toys for the kids of the village. The semi meets all types of other big rig trucks, including a rusty dump truck that comes to its aid. The book shows what happens when one does a good deed. I hope eventually to get it published, primarily so we can give books to our agents, truckers, and our employees' children at the holidays.

I do community service with my local sorority chapter of Zeta Phi Beta Sorority, Inc. At the beginning of the school year, we donated 100 COVID kits to the Hannah House; Kroger gift cards, coats, bras, household items, and diapers to the Middleway House; and bought lunch for the nurses in the NICU unit at Bloomington Hospital as a part of our annual activities for the March of Dimes.
---
At Great West, we hire great people for great careers. Ready to take the next step to great? Join our Talent Community for job alerts, company updates, and priority resume review.
---
This blog post was created by Megan L., Great West Casualty Company HR Communications Specialist.
© Great West Casualty Company 2021. The material in this publication is the property of Great West Casualty Company unless otherwise noted and may not be reproduced without its written consent by any person other than a current insured of Great West Casualty Company for business purposes. Insured should attribute use as follows: "© Great West Casualty Company 2021. Used with permission by Great West Casualty Company."
This material is intended to be a broad overview of the subject matter and is provided for informational purposes only. Great West Casualty Company does not provide legal advice to its insureds, nor does it advise insureds on employment-related issues. Therefore, the subject matter is not intended to serve as legal or employment advice for any issue(s) that may arise in the operations of its insureds. Legal advice should always be sought from the insured's legal counsel. Great West Casualty Company shall have neither liability nor responsibility to any person or entity with respect to any loss, action, or inaction alleged to be caused directly or indirectly as a result of the information contained herein.