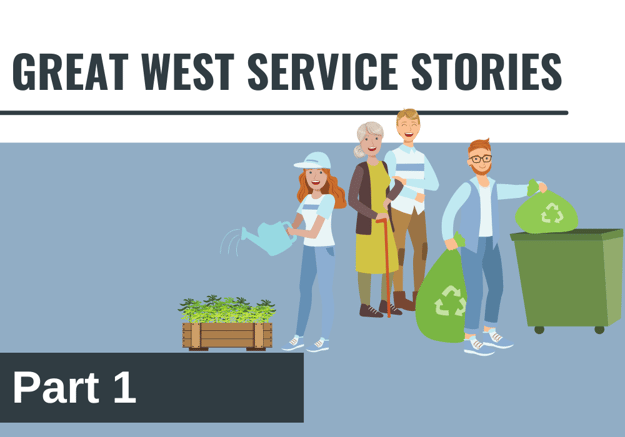 The tagline on our logo and one of our core values; service is a prominent part of our everyday lives, both at work and in the community. Great West and its employees have a tradition of giving back, and although there is a current pandemic, we continue to find unique ways to better the communities in which we live and work. Here are their stories.

When the pandemic started, I hit the ground running. After work and on the weekends, I sat and made masks. I have made more than 700 to date. About 600 of these were donated to frontline workers in assisted living centers, nursing homes, sheriffs' departments, police departments, doctors' offices, hospitals, and therapy departments. Once the word got out, I shipped masks across the United States: to Florida, Wisconsin, Colorado, and Illinois, to name a few states. Friends and family jumped on the bandwagon and offered monetary donations to help keep the machines rolling. I continue to make masks and either donate to essential workers or sell them for less than cost.
I have been blessed with the ability and talent to sew. It allows me to help those in frontline jobs and also those in need of protection. I am thankful for all of the support I have received from those who allowed me to continue to create masks by supplying materials or money to purchase the supplies. Plus, I cannot forget those who helped distribute the masks to others in need.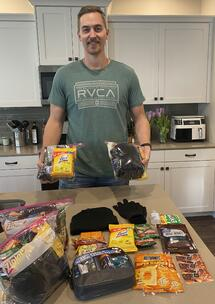 There are thousands of people experiencing homelessness in Boise on any given day. A couple of times a year, typically in summer and winter, I like to make care packages and have them ready in my vehicle to hand out. The care packages usually include non-perishable foods, toiletries, clothes, and a gift card for a warm meal. It is a small but well-received gesture.
---
At Great West, we hire great people for great careers. Ready to take the next step to great? Join our Talent Community for job alerts, company updates, and priority resume review.
---
This blog post was created by Megan L., Great West Casualty Company HR Communications Specialist.
© Great West Casualty Company 2021. The material in this publication is the property of Great West Casualty Company unless otherwise noted and may not be reproduced without its written consent by any person other than a current insured of Great West Casualty Company for business purposes. Insured should attribute use as follows: "© Great West Casualty Company 2021. Used with permission by Great West Casualty Company."
This material is intended to be a broad overview of the subject matter and is provided for informational purposes only. Great West Casualty Company does not provide legal advice to its insureds, nor does it advise insureds on employment-related issues. Therefore, the subject matter is not intended to serve as legal or employment advice for any issue(s) that may arise in the operations of its insureds. Legal advice should always be sought from the insured's legal counsel. Great West Casualty Company shall have neither liability nor responsibility to any person or entity with respect to any loss, action, or inaction alleged to be caused directly or indirectly as a result of the information contained herein.