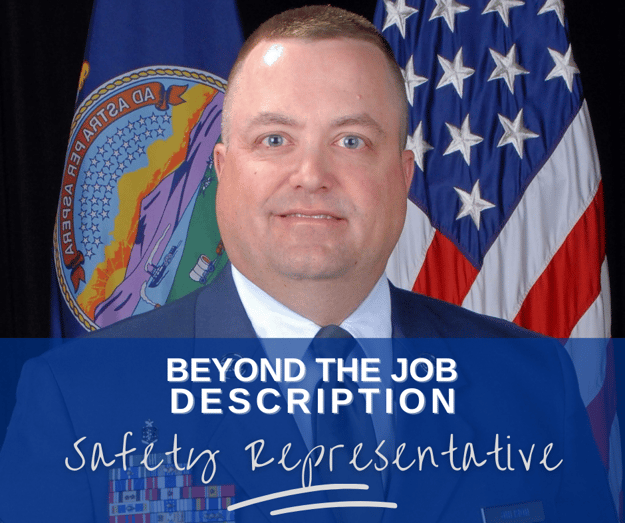 Meet Jeff, a Safety Representative with Great West Casualty Company.
What is a "safety representative," any way?
In my role as a Safety Representative, I work with our insureds and prospective insureds on their safety programs and loss control. I am the eyes and ears for our underwriting team to determine levels of risk and prevention taken by our insureds. I meet with each of our fleet customers at least three times per year and am a resource for them to limit their losses and improve safety awareness.
Describe a typical day on the job.
I map out each of my workdays about two weeks in advance. This helps me and the customer prepare for our meeting. In a typical work week, I have customer meetings Tuesdays through Thursdays and planning and "prep" days on Mondays and Fridays. I also do continuing education through The Institutes and GWCC (STAR courses) to improve my insurance skills.
What surprised you about this role when you first started?
The most surprising part of this role was how autonomous it was – I make my own schedule. I call it "creating my own adventure." When we are able to travel, I get to set up the customer visits using a map of my region to help determine the most efficient travel; make my own travel arrangements for lodging; and with the use of the company car, calculate my travel times to the various areas to serve our customers.
How has your military experience helped you in your current role? What were some transferable skills from your time in the military that seemed to translate well here?
My experience as a part of leadership in my last position was helpful in communication. This career requires moments when you have to have a crucial conversation. Those were the types of conversations I had to have as a senior non-commissioned officer. As far as transferrable skills, the main one is self-discipline: being able to stay on task without someone looking over your shoulder or telling you what you need to be doing. I learned early in my military career that you have to manage time and stay focused on the work to complete the mission.
What's challenging about your job?
One of the challenges I encounter is working with customers who think of me as an adversary rather than a resource. I enjoy being able to help clarify my role and change their perspective of what I am there to do for them, which is to work as a partner in their operation to reduce risk and increase the safety awareness and culture. When we can accomplish those things, both the customer and Great West see success.
What is the best part about working at Great West?
The best and most important part is the company's stance on work-life balance. I have not had the opportunity to work for a company or organization where they really stuck to this concept until now. The support of leadership of Great West in this philosophy has been proven several times, most recently now with so many of us working from home full-time during COVID.
What's your favorite memory from working here?
My favorite memory so far has been the Holiday Party in December 2019. It was the first time my wife was able to see why I have enjoyed not just the work I do, but the people I get to work with. She had met only a couple of people from Great West from previous events in which I was participating, and once she saw all of those people there who are so kind and fun, she knew I was in the right place – a huge family.
What advice would you give to someone who just joined our team?
The best advice I have for a new hire is to bend the ear of the mentor assigned to you – this will help settle a new hire in quickly if that communication is strong between mentor and mentee. I had a solid mentor who scheduled regular calls to help answer my questions, to help me understand the culture (more like believe the culture was as good as it looked when I walked in the door), and to provide feedback on anything I needed to do differently now that I was a part of the team.
Did you ever think you'd be working in insurance?
I was in law enforcement for 20 years and worked with on-site adjusters from Great West a few times over those years, so I had an inclination I would enjoy it. But, it never crossed my mind that I could actually do it! I did not really know what a Safety Representative did until I interviewed for the position, and once I heard the description, I had to ask myself why I did not know about this career path sooner, and why I did not seek it sooner!
---
At Great West, we hire great people for great careers. Ready to take the next step to great? Join our Talent Community for job alerts, company updates, and priority resume review.
---
This blog post was created by Megan L., Great West Casualty Company HR Communications Specialist.
© Great West Casualty Company 2020. The material in this publication is the property of Great West Casualty Company unless otherwise noted and may not be reproduced without its written consent by any person other than a current insured of Great West Casualty Company for business purposes. Insured should attribute use as follows: "© Great West Casualty Company 2020. Used with permission by Great West Casualty Company."
This material is intended to be a broad overview of the subject matter and is provided for informational purposes only. Great West Casualty Company does not provide legal advice to its insureds, nor does it advise insureds on employment-related issues. Therefore, the subject matter is not intended to serve as legal or employment advice for any issue(s) that may arise in the operations of its insureds. Legal advice should always be sought from the insured's legal counsel. Great West Casualty Company shall have neither liability nor responsibility to any person or entity with respect to any loss, action, or inaction alleged to be caused directly or indirectly as a result of the information contained herein.