Real-Time Industry Apps Alleviate Driver Parking Woes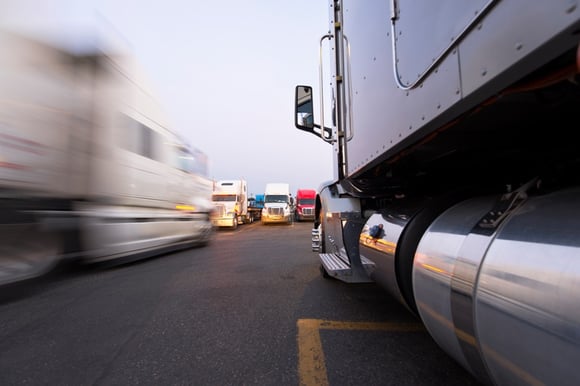 For many over-the-road drivers, finding an available place to stop or rest for the night after an 11 to 14-hour shift can be cumbersome. In their study, titled "Critical Issues in the Trucking Industry," the American Transportation Research Institute (ATRI) found that the lack of "available, safe parking for truck drivers," ranked as the fourth overall issue impacting the industry in 2016.
"The growing scarcity of available truck parking creates a dangerous situation for truck drivers who are often forced to drive beyond allowable HOS (Hours of Service) rules or park in undesignated and, in many cases, unsafe locations," the ATRI study reported.
One of ATRI's proposed strategies to address the shortage of parking is to "research the role and value of real-time truck parking information availability and truck parking reservation systems." Trucker Path and Park My Truck are two solutions that help over-the-road drivers plan ahead and directly address the concern of finding somewhere safe to park before violating HOS rules.
With the Trucker Path app, users can find truck parking nearby in real time, with locations updating their availability every hour. In Trucker Path, users can search for hotels and truck stops with parking that will fit trailers, plus find other nearby truck rest areas.
In total, the database covers 270,000+ truck parking spots and 8,000 parking locations that are constantly updating in real time. Trucker Path also provides the following benefits for its users:
Saving time — Find the right parking spot and call from the app to reserve it.
Avoiding HOS violations — Users can save time and plan their parking spots ahead of time by searching over 450,000 spots that are updated in real time.
Ensuring safety — Users can read fellow truckers' reviews to find safe parking.
Trucker Path is available for download on your iPhone or Android device.
The Truck Parking Leadership Initiative, which includes the National Association of Truck Stop Operators (NATSO), the NATSO Foundation, the American Trucking Association, and the American Transportation Research Institute, developed the Park My Truck app based on parking availability feedback from drivers.
On the Park My Truck app, users are initially provided parking spots within 50 miles. Users can view parking providers up to 250 miles away, in other states, and along certain highways. More information about each provider becomes available once the user clicks on the location. From that page, a user can see a time stamp that will indicate when the last update was made and how many spots were available. Other useful information about the Park My Truck app includes:
Drivers won't be able to input parking information; the information comes directly from the parking providers. This ensures the app's accuracy.
There are no plans to allow drivers to review or rate locations within the app.
Drivers do not reserve spots using Park My Truck. Similar to Trucker Path, they can conveniently call locations from the app, saving time and minimizing distractions while on the road.
Park My Truck is available for download on your iPhone or Android device.
Ultimately, these apps can also be used by management and logistics teams who may want to provide their drivers with a list of safe stops before drivers hit the road.
Using your smartphone or tablet to access these apps while driving is strongly discouraged, so planning ahead is key.
The information in this article is provided as a courtesy of Great West Casualty Company, not as an endorsement for any particular application or tool, and is part of the Value-Driven® Company program. Value-Driven Company was created to help educate and inform insureds so they can make better decisions, build a culture that values safety, and manage risk more effectively. To see what additional resources Great West Casualty Company can provide for its insureds, please click below to find an agent.
© Copyright Great West Casualty Company 2017. The material in this publication is the property of Great West Casualty Company unless otherwise noted and may not be reproduced without its written consent by any person other than a current insured of Great West Casualty Company for business purposes. Insured should attribute use as follows: "Used with permission by Great West Casualty Company."
This material is intended to be a broad overview of the subject matter and is provided for informational purposes only. Great West Casualty Company does not provide legal advice to its insureds, nor does it advise insureds on employment-related issues. Therefore, the subject matter is not intended to serve as legal or employment advice for any issue(s) that may arise in the operations of its insureds. Legal advice should always be sought from the insured's legal counsel. Great West Casualty Company shall have neither liability nor responsibility to any person or entity with respect to any loss, action, or inaction alleged to be caused directly or indirectly as a result of the information contained herein.