2017 Analysis: ATRI Operational Costs of Trucking
Every year since 2008, the American Transportation Research Institute (ATRI) has published "An Analysis of the Operational Costs of Trucking." Last year's report is now available; it contains helpful analysis in two areas of particular interest: high-level benchmarking of interest to motor carriers, and potential transportation impact assessments, of interest to public sector agencies.
Improved Detail in Survey Questions
The 2017 report covers data collected through the end of 2016 and contains several changes that allow for more detailed analysis, including:
More detailed classifications of business operations and expansion of the "Specialized" category to collect more detail on flatbed, tanker, express/parcel service and automotive transportation

More robust selection of trailer types to reflect the new business operation categories

Bonus and incentive pay broken out to provide more granular data on the type of bonus or incentive granted in order to provide a comprehensive analysis of driver compensation
Key Statistics from the 2017 Report
Many key factors in the cost of operations remained flat in the year-over-year comparison, though several saw large increases, some due to regulatory changes in the industry.
Carriers surveyed in 2016 accumulated almost 9 billion miles, up 36% from 2015 (6.6 billion miles).
The typical tractor-trailer in the ATRI sample reported driving 103,945 miles in 2016, compared to 25,511 miles for straight trucks.

Use of alternative fuels other than diesel or bio-diesel held flat at 11.2% year-over-year. Adoption is slow due to the high initial capital cost associated with compressed natural gas (CNG) and liquid natural gas (LNG) fueled vehicles.

A majority of responders (84.1%) reported using speed limiters on their fleets, with 65 mph being the most common maximum speed setting.

A significant uptick in Electronic Logging Devices (ELDs)

was noted, jumping over 11% to 74.8%. This is

likely due to the recent

Federal Motor Carrier Safety Administration (FMCSA)

ELD mandate deadline.
Cost Per Mile and Cost Per Hour Up
At the heart of the study is the average marginal cost per mile and per hour for motor carriers. While many variables come into play in calculating these numbers, both numbers ticked up roughly 1% for 2016 but were significantly lower than they had been in 2011, 2012, 2013, or 2014.
Figure 5: Respondent Fuel Cost per Mile by Fleet Size*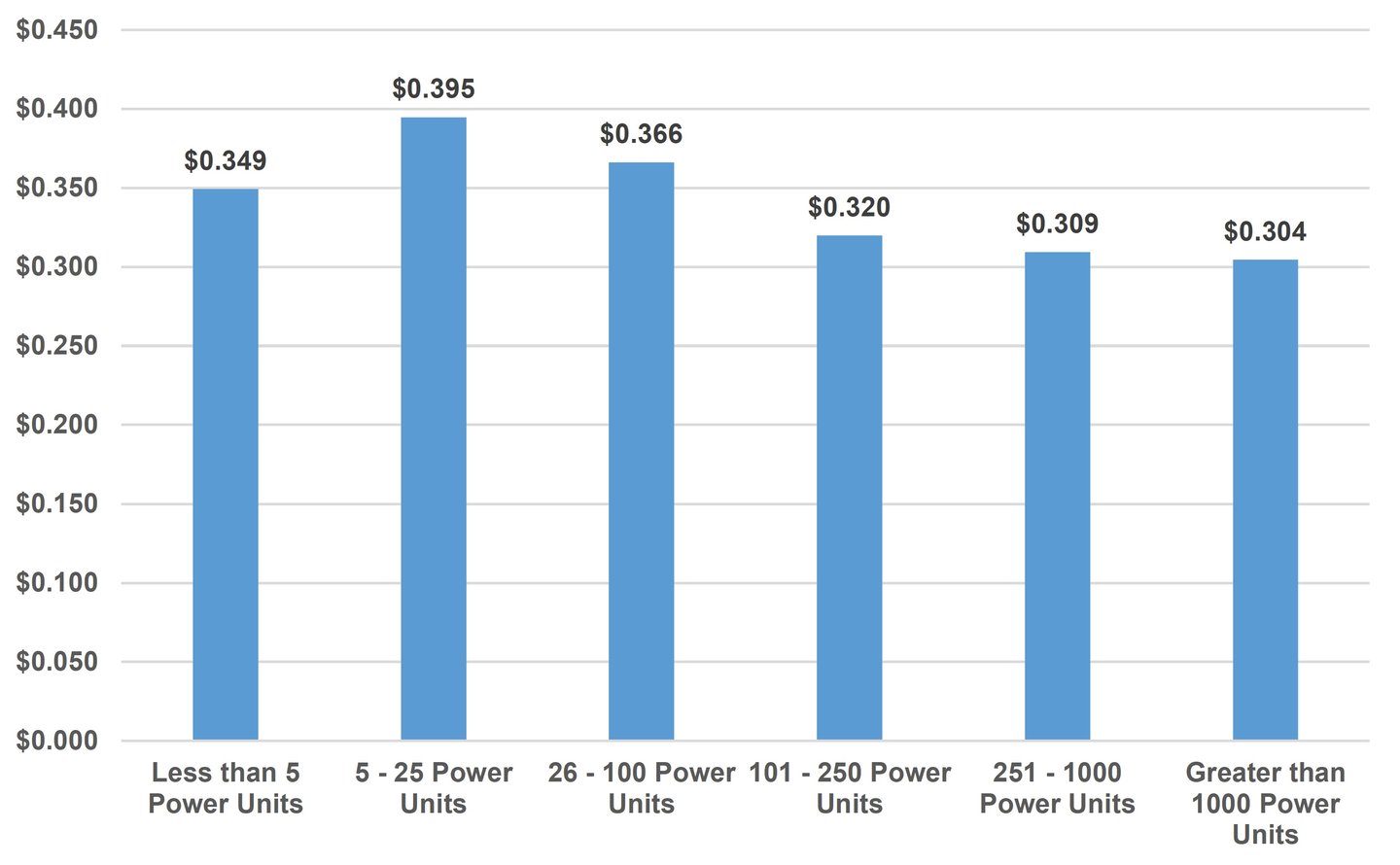 Driver Pay Figures Include More Granular Data
Survey respondents noted that the average truck driver pay per mile was 52.3 cents in 2016, which indicates the fourth year of continuous increase. For drivers paid hourly, that figure translates to $20.91 per hour.
Driver pay continues to increase and remains the largest cost for motor carriers. In addition to driver pay increasing, benefits also increased in order to recruit and retain more drivers in a highly competitive job market.
A majority of respondents (60.4%) indicated that, in addition to wages, they also pay some type of bonus to drivers.
Table 15: Single Driver Bonus Pay by Type*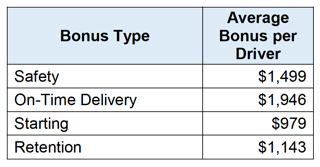 Average Marginal Costs Expected to Continue Rising
While the average marginal cost per mile in 2016 was $1.59 in the for-hire sector of the trucking industry, only a slight increase from 2015, ATRI believes that the cost will continue to rise due to continued driver shortage factors and rising diesel prices seen throughout 2017.
For more information, click this link to visit the ATRI website and request a copy of the full report.
*Figure and Table from American Transportation Research Institute (ATRI) "An Analysis of the Operational Costs of Trucking: 2017 Update, "Figure 5 (p. 28) Table 15 (p. 34)", published October 2017.
The information in this article is provided as a courtesy of Great West Casualty Company and is part of the Value-Driven® Company program. Value-Driven Company was created to help educate and inform insureds so they can make better decisions, build a culture that values safety, and manage risk more effectively. To see what additional resources Great West Casualty Company can provide for its insureds, please contact your safety representative, or click below to find an agent.
© Great West Casualty Company 2018. The material in this publication is the property of Great West Casualty Company unless otherwise noted and may not be reproduced without its written consent by any person other than a current insured of Great West Casualty Company for business purposes. Insured should attribute use as follows: "© Great West Casualty Company 2018. Used with permission by Great West Casualty Company."
This material is intended to be a broad overview of the subject matter and is provided for informational purposes only. Great West Casualty Company does not provide legal advice to its insureds, nor does it advise insureds on employment-related issues. Therefore, the subject matter is not intended to serve as legal or employment advice for any issue(s) that may arise in the operations of its insureds. Legal advice should always be sought from the insured's legal counsel. Great West Casualty Company shall have neither liability nor responsibility to any person or entity with respect to any loss, action, or inaction alleged to be caused directly or indirectly as a result of the information contained herein.