What You Need to Know When You Face an Emergency Stop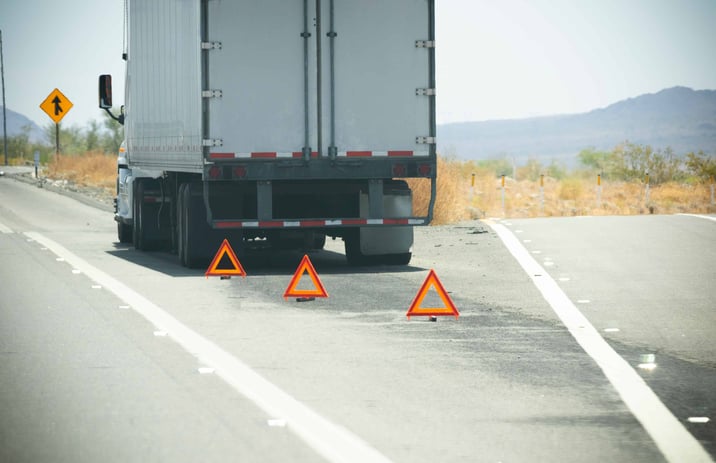 When an equipment failure occurs or another emergency forces you to pull off the roadway, commercial motor vehicle (CMV) operators are required under Part 392.22 of the Federal Motor Carrier Safety Regulations (FMCSR) to follow specific rules to alert other motorists of your situation. Below is a simple graphic and additional safety tips to keep in mind should you need to make an emergency stop. Read the information below and refer to the regulations to ensure you meet compliance requirements and protect yourself from harm.
HAZARD WARNING SIGNAL FLASHES
After stopping the truck, activate the hazard warning lights before placing the external warning devices (i.e., warning triangles, fusees or liquid-burning flares) around the truck. The hazard lights must remain on while picking up the warning devices and moving the vehicle. Hazard lights are not a substitute for placing warning devices around the truck.
PLACEMENT OF WARNING DEVICES
Except for necessary traffic stops, warning devices must be placed around the truck within 10 minutes of stopping. The diagrams below show the proper placement of warning devices. Refer to Part 392.22(b)(2) for a list of special rules regarding placement of warning devices.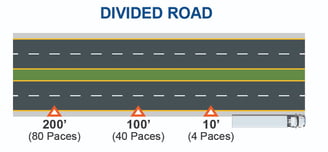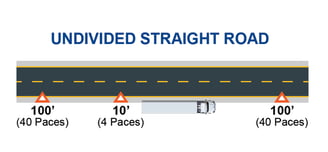 ADDITIONAL SAFETY TIPS
If you are experiencing a medical emergency, call 9-1-1 immediately.

Wear a reflective vest when working outside the truck. If you do not have a reflective vest, carry the reflective

triangles up near your chest when walking around the vehicle.

Use a flashlight in the dark to make yourself more conspicuous, and watch for slip, trip, and fall hazards.

Avoid walking near the roadway; walk along the side of the truck opposite the moving traffic lanes.
Note: These lists are not intended to be all-inclusive.
The information in this article is provided as a courtesy of Great West Casualty Company and is part of the Value-Driven® Company program. Value-Driven Company was created to help educate and inform insureds so they can make better decisions, build a culture that values safety, and manage risk more effectively. To see what additional resources Great West Casualty Company can provide for its insureds, please contact your safety representative, or click below to find an agent.
© Great West Casualty Company 2020. The material in this publication is the property of Great West Casualty Company unless otherwise noted and may not be reproduced without its written consent by any person other than a current insured of Great West Casualty Company for business purposes. Insured should attribute use as follows: "© Great West Casualty Company 2020. Used with permission by Great West Casualty Company."
This material is intended to be a broad overview of the subject matter and is provided for informational purposes only. Great West Casualty Company does not provide legal advice to its insureds, nor does it advise insureds on employment-related issues. Therefore, the subject matter is not intended to serve as legal or employment advice for any issue(s) that may arise in the operations of its insureds. Legal advice should always be sought from the insured's legal counsel. Great West Casualty Company shall have neither liability nor responsibility to any person or entity with respect to any loss, action, or inaction alleged to be caused directly or indirectly as a result of the information contained herein.