Preserving the Crash Scene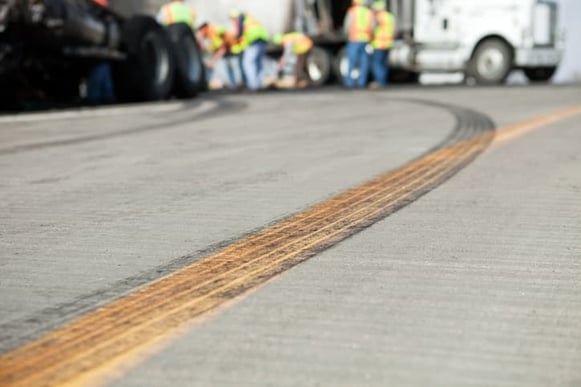 Preserving the crash scene and documenting the facts surrounding the incident can play an important role in minimizing the severity of a loss and proving where the fault lies. Because crash scenes can be chaotic, Great West Casualty Company provides its insureds with free crash reporting kits to help drivers manage the scene and document what happened. Be sure to report all crashes immediately, from the scene of the crash if at all practical. Here is a brief overview of the steps covered in the crash reporting kit:
Secure the Scene
• Stop and shut down your vehicle immediately, even if you are blocking traffic
• Turn on emergency flashers and do not move your vehicle unless advised by law enforcement to do so
• Place emergency warning devices around the vehicle within ten minutes of stopping
• If there are injuries, provide assistance but DO NOT move anyone; wait for medical assistance
Notify the Authorities
• Call the police
• Notify your company
• Report the crash to you insurance company
Document the Scene
• Take pictures of the crash scene using landmarks for reference
• Do not take pictures of injured people at the scene
• If you strike an unattended vehicle and cannot locate the owner, leave a note with your name, address, and company information securely on the vehicle
• Do not admit fault or sign anything (except a citation)
• Only make statements to the authorities, your company, or your insurance company; not bystanders, the media, or other drivers involved in the crash
• Collect contact information of witnesses
• Ask other drivers involved in the crash to sign the exoneration cards located in the crash reporting kit
If you have any questions or want more information, please click the Contact Us button below. If you would like to find one of our agents, please click here.
© Copyright Great West Casualty Company 2017. The material in this publication is the property of Great West Casualty Company unless otherwise noted and may not be reproduced without its written consent by any person other than a current insured of Great West Casualty Company for business purposes. Insured should attribute use as follows: "Used with permission by Great West Casualty Company."
This material is intended to be a broad overview of the subject matter and is provided for informational purposes only. Great West Casualty Company does not provide legal advice to its insureds, nor does it advise insureds on employment-related issues. Therefore, the subject matter is not intended to serve as legal or employment advice for any issue(s) that may arise in the operations of its insureds. Legal advice should always be sought from the insured's legal counsel. Great West Casualty Company shall have neither liability nor responsibility to any person or entity with respect to any loss, action, or inaction alleged to be caused directly or indirectly as a result of the information contained herein.