Protecting drivers from theft while on the road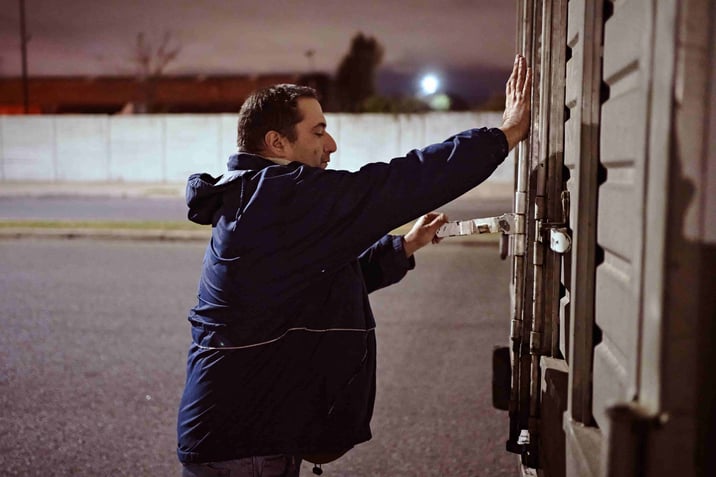 Equipment and cargo thefts are constant risks for motor carriers. Thieves are always on the prowl, looking for easy targets. Read the information below and ask yourself if there are actions you can take to protect yourself from being a victim of theft.
Recognize the Hazards
Environment
Hauling freight into known hot spots for cargo thieves is one hazard truck drivers should be mindful of. Dimly-lit and unfenced locations, parking areas without surveillance cameras, truck stops, and public rest areas are common hubs for cargo thieves.
Equipment
Trailer doors that are not sealed and padlocked are ripe targets for thieves. Likewise, stepping away from an idling truck for too long or not using a king pin lock to secure a dropped trailer increases the risk of theft.
Personal Behaviors
Discussing cargo with strangers can invite would-be thieves to hijack your load. Additionally, failing to lock the truck when away, not conducting a pre-trip inspection, and a general lack of awareness of one's surroundings can increase the risk of theft.
Know the Defe

n

se
Be Viligant
Cargo theft could happen any time or anywhere, so be proactive and be mindful of your surroundings, especially over weekends and holidays. The longer you remain parked in one area, the easier it is for thieves to target you.
conduct vehicle inspections
A pre-trip vehicle inspection should be performed before each day and at every stop. Verify that seals and padlocks are secure and untampered.
Report thefts immediately
If you are the victim of theft, report it immediately. Follow your company guidelines on notifying your employer, the police, and insurance company. The more quickly the theft is reported, the faster the response to recover the equipment and cargo.
Note: These lists are not intended to be all-inclusive.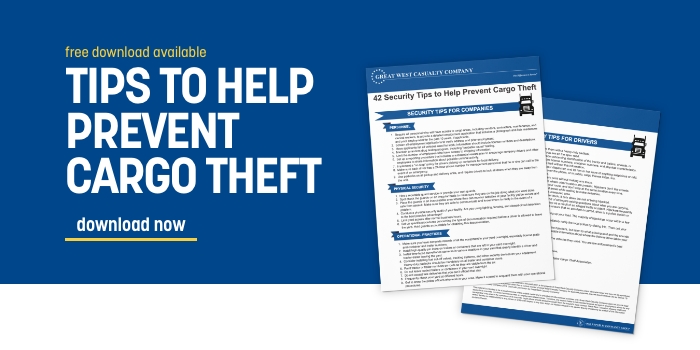 The information in this article is provided as a courtesy of Great West Casualty Company and is part of the Value-Driven® Company program. Value-Driven Company was created to help educate and inform insureds so they can make better decisions, build a culture that values safety, and manage risk more effectively. To see what additional resources Great West Casualty Company can provide for its insureds, please contact your safety representative, or click below to find an agent.
© Great West Casualty Company 2019. The material in this publication is the property of Great West Casualty Company unless otherwise noted and may not be reproduced without its written consent by any person other than a current insured of Great West Casualty Company for business purposes. Insured should attribute use as follows: "© Great West Casualty Company 2019. Used with permission by Great West Casualty Company."
This material is intended to be a broad overview of the subject matter and is provided for informational purposes only. Great West Casualty Company does not provide legal advice to its insureds, nor does it advise insureds on employment-related issues. Therefore, the subject matter is not intended to serve as legal or employment advice for any issue(s) that may arise in the operations of its insureds. Legal advice should always be sought from the insured's legal counsel. Great West Casualty Company shall have neither liability nor responsibility to any person or entity with respect to any loss, action, or inaction alleged to be caused directly or indirectly as a result of the information contained herein.