Protecting Parked Equipment from Fires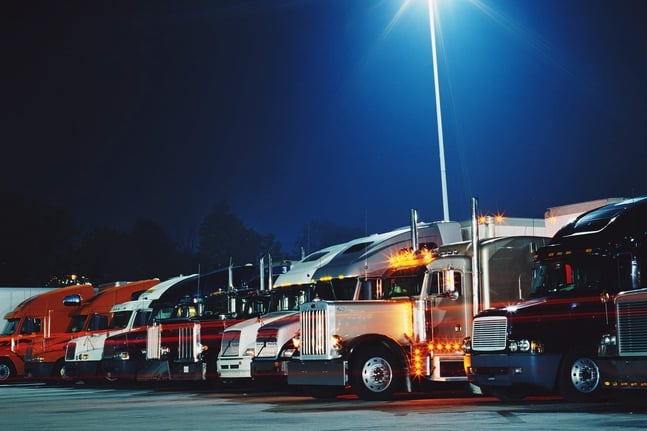 A fire can be a devastating financial event for a trucking company or a driver. Modern trucks and trailers are manufactured to be as light as possible, which means they are constructed using a variety of potentially dangerous materials; that construction can become extremely hazardous should a fire occur. The dangers of today's truck fires include extreme heat, rapidly spreading flames, and potentially toxic fumes.
Motor carriers should consider the risks of fires to trucks and loaded trailers that are parked in their yards. It is quite common for carriers to park loaded and unloaded trailers in separate, specifically designated areas of the yard. Whether hooked or unhooked, parking equipment in close proximity to one another increases the risk of a greater loss if a fire should break out and engulf multiple tractors or trailers. Below are several tips to help manage this risk and avoid a catastrophic loss to your fleet or facilities.
Consider leaving at least 20 feet between all trucks and loaded trailers in your yard.

Always be aware of the products loaded in your trailers and ensure that other loaded trailers will not increase the overall fire risk or an explosion.

Rethink the yard parking configuration. Can it be done more effectively to avoid a large fire loss?

Before parking trucks inside, consider how a truck fire could affect the facility and vice versa.

Make sure your trucks are in top mechanical condition and free of any oil leaks.

Use approved and damage-free power cords when plugging in trucks during the winter months.

Use certified installers to install all electrical modifications to the trucks and ensure work is inspected. Certified electrical modifications include CBs, refrigerators, and inverters, etc.

Avoid parking on grass and around flammable materials or other debris on the ground.

Avoid smoking in or around the truck, especially inside trailers when they are being loaded.

When trucks are parked for extended periods, consider disconnecting the battery. This will help prevent truck fires and further hinder theft opportunities.

Have an up-to-date fire safety plan for your yard and fire suppression equipment available.

Always have inspected fire extinguishers ready and available for emergency use.

Ensure that any trailer containing DOT hazardous materials that requires placards has a fire extinguisher with an Underwriter's Laboratories (UL) rating of 10 B : C or more.
CALL TO ACTION
Conduct a risk analysis of trailer parking configurations and correct high-risk exposures.

Evaluate maintenance procedures and ensure each vehicle is serviced and maintained properly.

Conduct a facility inspection to ensure fire extinguishers and fire suppression equipment are readily available, inspected, and properly maintained.
© Great West Casualty Company 2020. The material in this publication is the property of Great West Casualty Company unless otherwise noted and may not be reproduced without its written consent by any person other than a current insured of Great West Casualty Company for business purposes. Insured should attribute use as follows: "© Great West Casualty Company 2020. Used with permission by Great West Casualty Company."
This material is intended to be a broad overview of the subject matter and is provided for informational purposes only. Great West Casualty Company does not provide legal advice to its insureds, nor does it advise insureds on employment-related issues. Therefore, the subject matter is not intended to serve as legal or employment advice for any issue(s) that may arise in the operations of its insureds. Legal advice should always be sought from the insured's legal counsel. Great West Casualty Company shall have neither liability nor responsibility to any person or entity with respect to any loss, action, or inaction alleged to be caused directly or indirectly as a result of the information contained herein.