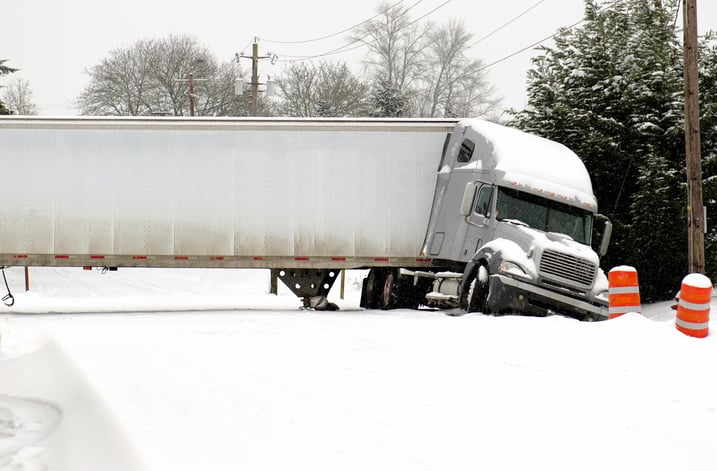 Due to winter roadways, there is an increased risk of jackknifes, but this type of loss of control crash can occur any time of the year. To avoid a jackknife - or to recover from one, drivers must be able to recognize the hazards that contribute to a jackknife. They must also know how to defend against it. Read the information below, and ask yourself if there are actions you can take to improve your driving skills and reduce the risk of a crash.
Recognize the Hazards
Environment
Adverse road conditions

Black ice, snow, sand, salt, etc.
Adverse weather

Poor visibility, high winds, rain, etc.
Equipment
Tractor: drive wheels slide or spin and try to lead the steer tires

Tractor: steer tires lock up

Trailer: tandems slide or spin and try to lead the tractor

Insufficient tire tread depth

Brake failure or improper adjustment

Lightly-loaded or empty trailers
Personal behaviors
Driving too fast for conditions

Inattention/distractions

Using the engine brake or cruise control on slippery surfaces

Braking abruptly

Sharp turn of the steering wheel

Sudden acceleration

Inexperience

Driving in adverse conditions
Know the Defense
Essential 7 Driving Techniques
React properly to hazards

Do not use the engine brake or cruise control in slippery road conditions

Find a safe place to park if driving conditions are too hazardous

Use the inter-axle differential lock, if necessary, according to manufacturer's specifications

Avoid distractions

Get plenty of rest to avoid fatigue

Put away mobile devices and other distractions inside the cab

Be attentive to the road ahead

Watch for slowing or stopping traffic

Maintain proper following distance

Leave yourself extra stopping distance

Observe proper speed for conditions

Slow down in slippery road conditions
Recovering from a jackknife
Disengage the clutch (manual) or shift to neutral (automatic) to regain rolling traction

Avoid using the brakes

Steer in the direction of the skid, then counter-steer, as needed, to straighten the truck
Note: these lists are not intended to be all-inclusive.
The information in this article is provided as a courtesy of Great West Casualty Company and is part of the Value-Driven® Company program. Value-Driven Company was created to help educate and inform insureds so they can make better decisions, build a culture that values safety, and manage risk more effectively. To see what additional resources Great West Casualty Company can provide for its insureds, please contact your safety representative, or click below to find an agent.
© Great West Casualty Company 2018. The material in this publication is the property of Great West Casualty Company unless otherwise noted and may not be reproduced without its written consent by any person other than a current insured of Great West Casualty Company for business purposes. Insured should attribute use as follows: "© Great West Casualty Company 2018. Used with permission by Great West Casualty Company."
This material is intended to be a broad overview of the subject matter and is provided for informational purposes only. Great West Casualty Company does not provide legal advice to its insureds, nor does it advise insureds on employment-related issues. Therefore, the subject matter is not intended to serve as legal or employment advice for any issue(s) that may arise in the operations of its insureds. Legal advice should always be sought from the insured's legal counsel. Great West Casualty Company shall have neither liability nor responsibility to any person or entity with respect to any loss, action, or inaction alleged to be caused directly or indirectly as a result of the information contained herein.