How do the Drug & Alcohol Clearinghouse's New Notifications Work?
Starting on March 9, 2023, the Federal Motor Carrier Safety Administration (FMCSA) rolled out a new email notification process to employers utilizing the Drug and Alcohol Clearinghouse. Going forward, the FMCSA indicates they will notify employers via email if there is a change to a driver's record in the clearinghouse record up to 12 months following a driver query. This includes an employer's pre-employment queries and annual queries. Previously, the FMCSA would notify employers only if there was a change within 30 days of the driver query. The new notification process may provide more information to employers when they make driver selection and retention decisions, including a driver's return-to-duty status, if a violation has been removed, or if a new violation has occurred.
If the new information results in a 'prohibited' status in the clearinghouse, motor carriers are encouraged to run a full follow-up query. This requires the driver's specific consent within 24 hours to determine if the new information prohibits the driver performing a safety-sensitive function.
Access to the clearinghouse's real-time information can be a great risk management tool for motor carriers and help them make more-informed decisions pertaining to driver selection and retention. For more information about the clearinghouse's new notification process and consent requests, please visit the Drug and Alcohol Clearinghouse website: https://www.clearinghouse.fmcsa.dot.gov.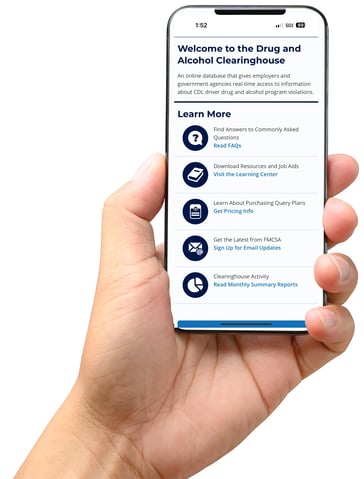 WHAT IS THE NEW CDL DOWNGRADE RULE?
The final rule regarding commercial driver's license (CDL) downgrades will take effect on November 18, 2024. According to the rule, this means that State Driver Licensing Agencies (SDLAs) must query the FMCSA's Drug and Alcohol Clearinghouse before issuing, renewing, upgrading, or transferring CDLs and commercial learner's permits (CLPs).
The SDLAs must review a driver's information when notified by the clearinghouse of any status change to the driver. If the driver's record shows a 'prohibited' status, the SDLA will be required to remove the driver's CDL or CLP privilege from the driver's license. This will result in a downgrade of the license until the driver complies with the return-to-duty requirements.
Register with the FMCSA's Drug and Alcohol Clearinghouse, if required.

Encourage drivers to register voluntarily with the Drug and Alcohol Clearinghouse.

Educate drivers on operations staff on how the Drug and Alcohol Clearinghouse works.




The information in this article is provided as a courtesy of Great West Casualty Company and is part of the Value-Driven® Company program. Value-Driven Company was created to help educate and inform insureds so they can make better decisions, build a culture that values safety, and manage risk more effectively. To see what additional resources Great West Casualty Company can provide for its insureds, please contact your safety representative, or click below to find an agent.
© Great West Casualty Company 2023. The material in this publication is the property of Great West Casualty Company unless otherwise noted and may not be reproduced without its written consent by any person other than a current insured of Great West Casualty Company for business purposes. Insured should attribute use as follows: "© Great West Casualty Company 2018. Used with permission by Great West Casualty Company."
This material is intended to be a broad overview of the subject matter and is provided for informational purposes only. Great West Casualty Company does not provide legal advice to its insureds, nor does it advise insureds on employment-related issues. Therefore, the subject matter is not intended to serve as legal or employment advice for any issue(s) that may arise in the operations of its insureds. Legal advice should always be sought from the insured's legal counsel. Great West Casualty Company shall have neither liability nor responsibility to any person or entity with respect to any loss, action, or inaction alleged to be caused directly or indirectly as a result of the information contained herein.