Driver Safety: Fall Prevention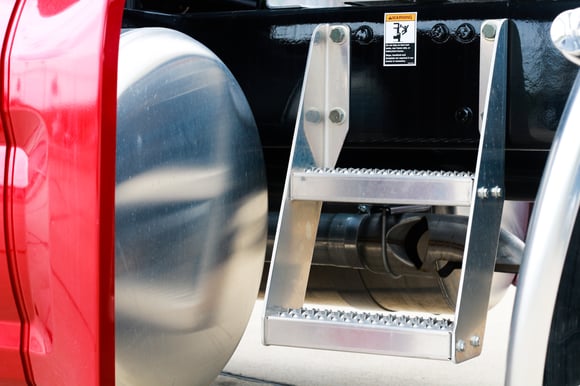 Slips and falls are the leading cause of workplace injuries. These incidents often result in traumatic head, neck, back, and other serious injuries which affect you, your family, coworkers, and employer. In addition to pain and the possibility of temporary or permanent disability, a slip and fall injury could cost you in lost wages, out-of-pocket medical expenses, and your ability to enjoy the people and activities you love. The key to preventing slips and falls is to be able to recognize hazards and take defensive measures to protect you from injury.
Recognize the Hazards
Environment/equipment
• Loose, damaged, or missing steps, catwalk, or hand rails
• Objects attached to steps or hand rails (i.e. carpet, antenna brackets)
• Loose or damaged fifth wheel release pin
• Load securement devices placed on the ground while loading/unloading
• Tools/equipment used for vehicle inspections or load securement placed on ground (hammers, tire air gauge, shovel, broom, etc.)
• Stepping over air/electrical lines on catwalk
• Climbing in/out of truck cab, trailer, or on/off tank or truck cargo area
• Snow, ice, water on the ground
• Slippery surfaces due to spills (oil, grease, fuel, etc.)
• Uneven pavement (ex. potholes)
• Objects on ground
• Poorly lit areas
Personal behaviors
• Running, jumping, hurrying, stepping backward, etc.
• Inattention/distractions
• Fatigue or illness
Know the Defense
Entering/exiting
• Face the vehicle when entering or exiting
• Use the three-point contact method
• Keep hands free
Vehicle inspection
• Conduct a thorough vehicle inspection
• Report damaged/missing equipment to maintenance immediately
• Keep steps clean and free from foreign objects
Footwear
• Wear shoes with slip-resistant properties
Walking/working surfaces
• Be aware of your surroundings
• Practice good housekeeping
• Use a flashlight in low-lit areas
• Never attempt to step over air and electrical lines on the catwalk
Proper technique
• Find stable ground when pulling the fifth wheel pin, sliding tandems, cranking the landing gear, etc.
• Watch for other trucks parked too close that could limit your range of motion
• Use fall protection devices
• Use caution opening truck/trailer doors
Note: These lists are not intended to be all-inclusive
The information in this article is provided as a courtesy of Great West Casualty Company and is part of the Value-Driven® Company program. Value-Driven Company was created to help educate and inform insureds so they can make better decisions, build a culture that values safety, and manage risk more effectively. To see what additional resources Great West Casualty Company can provide for its insureds, please contact your Safety Representative, or click below to find an agent.
© Copyright Great West Casualty Company 2017. The material in this publication is the property of Great West Casualty Company unless otherwise noted and may not be reproduced without its written consent by any person other than a current insured of Great West Casualty Company for business purposes. Insured should attribute use as follows: "Used with permission by Great West Casualty Company."
This material is intended to be a broad overview of the subject matter and is provided for informational purposes only. Great West Casualty Company does not provide legal advice to its insureds, nor does it advise insureds on employment-related issues. Therefore, the subject matter is not intended to serve as legal or employment advice for any issue(s) that may arise in the operations of its insureds. Legal advice should always be sought from the insured's legal counsel. Great West Casualty Company shall have neither liability nor responsibility to any person or entity with respect to any loss, action, or inaction alleged to be caused directly or indirectly as a result of the information contained herein.