CVSA Brake Safety Day Date Announced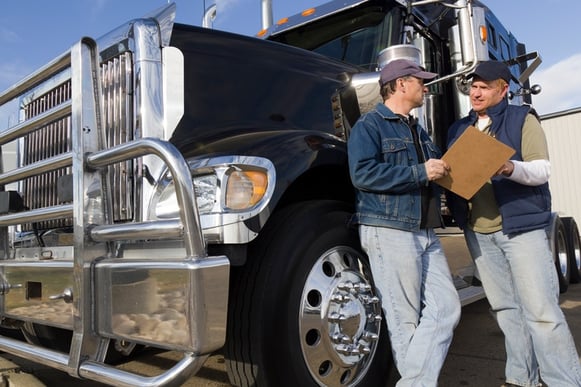 The Commercial Vehicle Safety Alliance is drumming up awareness for its Brake Safety Day on Thursday, September 7, 2017. During this enforcement and compliance campaign, law enforcement agencies across Mexico, the United States, and Canada will conduct inspections on buses and large trucks to identify out-of-adjustment brakes, brake-system, and antilock braking system (ABS) failures and violations as part of the CVSA Operation Airbrake Program.
This one-day event replaces the week-long affair of previous years and follows the unannounced Brake Safety Day on May 3rd of this year. The goal of the "surprise" and the official Brake Safety Day is to make commercial motor vehicles (CMVs) safer. Brake Safety Day activities seek to educate drivers, mechanics, owner-operators, and others on the importance of proper brake maintenance, operation, and performance.
Drivers and operators are aware that properly functioning brake systems are crucial to safe CMV operation. While these brake systems are designed to hold up under tough conditions, they must be routinely and consistently inspected and maintained, so they continue to operate and perform properly throughout the vehicle's life. Improperly installed or poorly maintained brake systems reduce braking efficiency, increase the stopping distance of trucks and buses, and pose serious risks to all highway users and public safety.
On Brake Safety Day, inspectors will primarily conduct the North American Standard Level I Inspection, a 37-step procedure that includes an examination of driver operating requirements, vehicle mechanical fitness, and the following brake-system components:
Loose or missing parts
Air or hydraulic fluid leaks
Worn linings, pads, drums, and rotors
ABS malfunction indicator lamps
Other faulty brake-system components
Furthermore, the 10 jurisdictions that use performance-based brake testing (PBBT) equipment will also measure vehicle braking efficiency. Braking efficiency is determined by total vehicle weight and total brake force measurements, and it is measured with a slow speed roller dynamometer. Inspectors will also measure the pushrod stroke where applicable.
Vehicles with defective or out-of-adjustment brakes will be placed out of service.
More than 3.4 million brakes have been inspected since the program's inception in 1998. Brake-related violations comprised the largest percentage (45.7 percent) of all out-of-service violations cited during the 2016 International Roadcheck campaign, which focused on inspections of both commercial motor vehicles and drivers.
Brake Safety Day is part of the Operation Airbrake Program, and it is sponsored by CVSA in partnership with the U.S. Department of Transportation's Federal Motor Carrier Safety Administration (FMCSA) and the Canadian Council of Motor Transport Administrators (CCMTA).
The information in this article is provided as a courtesy of Great West Casualty Company and is part of the Value-Driven® Company program. Value-Driven Company was created to help educate and inform insureds so they can make better decisions, build a culture that values safety, and manage risk more effectively. To see what additional resources Great West Casualty Company can provide for its insureds, please contact your Safety Representative, or click below to find an agent.
© Copyright Great West Casualty Company 2017. The material in this publication is the property of Great West Casualty Company unless otherwise noted and may not be reproduced without its written consent by any person other than a current insured of Great West Casualty Company for business purposes. Insured should attribute use as follows: "Used with permission by Great West Casualty Company."
This material is intended to be a broad overview of the subject matter and is provided for informational purposes only. Great West Casualty Company does not provide legal advice to its insureds, nor does it advise insureds on employment-related issues. Therefore, the subject matter is not intended to serve as legal or employment advice for any issue(s) that may arise in the operations of its insureds. Legal advice should always be sought from the insured's legal counsel. Great West Casualty Company shall have neither liability nor responsibility to any person or entity with respect to any loss, action, or inaction alleged to be caused directly or indirectly as a result of the information contained herein.