Confined Spaces are Dangerous Places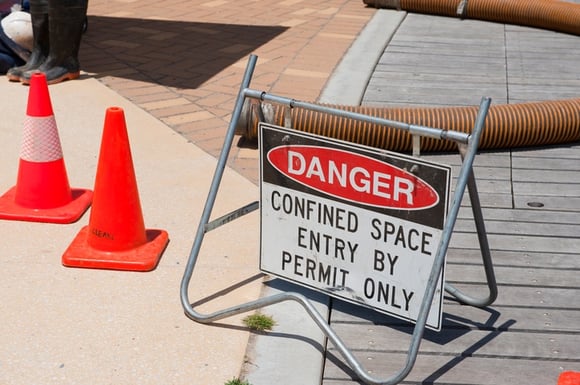 Mechanics can put themselves in serious peril if they enter an empty cargo tank trailer without following OSHA's confined space entry procedures. One cause of injury, and possibly death, is the assumption that it is safe to enter the trailer because it has never previously contained a hazardous material or substance. According to 29 CFR 1910.146, a confined space must meet ALL THREE of the following conditions:
1. Large enough for a human being to enter and perform work
2. Limited or restricted means of entry and exit
3. Not designed or intended for continuous human occupancy
Notice that the definition does not include any reference to containment of a hazardous material. While it is certainly true that hazardous materials further complicate the entry requirements for a confined space, they do not need to be present for an enclosure to be classified as a confined space.
With that definition in mind, following is a situation that a maintenance technician could encounter on any typical day.
A technician is tasked with performing some spot welding on the inside of a pneumatic dry bulk trailer which, it has been verified, has only been used to transport sand. The trailer appears squeaky clean from the manhole, and there is no trace of sand residue. Assured that the trailer has never contained a hazardous material and therefore confident that the air inside the trailer must be safe to breathe, the technician gathers up the necessary tools and climbs down into the trailer vessel. After about five minutes of working inside the trailer, he begins to feel dizzy and tired. Recognizing that something is not right, he climbs out of the trailer into fresh air and immediately feels better.
What happened here?
A low-oxygen environment is one of the hazards of a confined space and can be caused by many factors, including microbial action, insect activity, or corrosion. Naturally, humans need oxygen to sustain life, and exposure to a lowoxygen environment can lead to hypoxia symptoms, such as dizziness, rapid breathing, and changes in skin color to name a few. Without immediate treatment, the results can be fatal. Therefore, it is imperative that prior to entering any tank trailer, workers should follow approved confined space entry procedures. Ignoring this protocol could result in a preventable workplace injury, illness, or death.
For more information or questions about the above article, contact Great West Casualty Company. Also, if you'd like to request a truck insurance quote, click here or need to find an agent, click here.