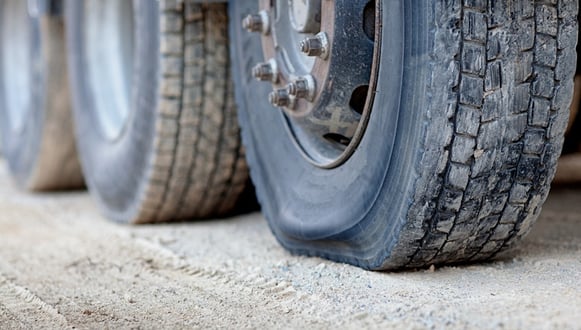 One of the most neglected aspects of a pre-trip inspection is the air pressure in the tires of commercial vehicles. It is not enough to scan tires for noticeably-low pressures or "thumping" the tires to gauge its pressure. Cutting corners in this area of the pre-trip inspection can be costly regarding dollars, times, and possibly lives.
From a financial standpoint, under-inflated tires can decrease fuel mileage and wear down equipment faster. Low-pressure tires can also cost drivers and motor carriers precious time due to roadside inspections and maintenance downtime. Furthermore, an under-inflated or slow-leaking tire can break down and contribute to a crash, like when a steer tire blows and causes the driver to lose control of the vehicle.
When conducting the pre-trip inspection, be mindful of factors that can cause a drop in tire pressure. These factors can include punctures and leaky valve stems and cores. The mounting of the tire can also become damaged due to corrosion or hitting an object, like a pothole. Likewise, variances in outside temperatures and human error can be factors, as well.
Each tire manufacturer has suggested guidelines regarding load and pressure limits for their tires. Be sure to adhere to these specifications and report issues to maintenance immediately. Remember, avoid driving on under-inflated tires because the risk of a blowout and crash increases. It is better to err on the side of caution and possibly deliver a load late than attempt to drive on tires that could create additional hazards and potentially result in serious personal and financial consequences.
If you have any questions or want more information, please click the Contact Us button below. If you would like to find one of our agents, please click here.