3 Ways to Make Safety Meetings More Effective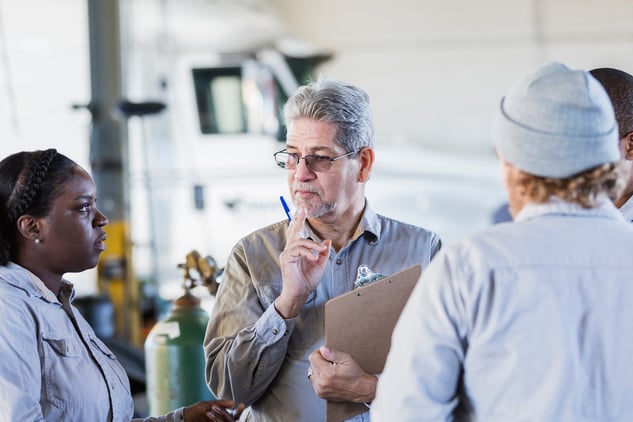 HOW CAN I MAKE MY SAFETY MEETINGS MORE EFFECTIVE?
Gathering drivers, dispatchers, and other members of the operations team together for a safety meeting is an opportunity that cannot be squandered. The cost and logistics of getting everyone together is formidable, so using this time wisely is essential. Three keys to make your safety meetings more effective are preparation, engagement, and enthusiasm.
Preparing for the meeting includes creating the agenda; setting up the location; communicating the logistics to attendees; and most importantly, developing the curriculum. Depending on the subjects to be covered, the training should include a mixture of presentation techniques. Each attendee learns differently, so presenting the material in multiple formats has a better chance of reaching everyone and keeping the audience engaged.
Try to avoid standing in front of the room and lecturing. Instead, facilitate a discussion that involves interacting with attendees. Additionally, once the classroom portion is completed (which can include videos, PowerPoints, etc.), engage the audience with hands-on instruction.
If the topic involves driving, get the audience behind the wheel of the truck and have them demonstrate their proficiency. The same goes for activities outside the truck or in the shop and loading dock. Adults learn best by knowing how the training affects their jobs directly and by having an opportunity to practice what is being taught.
As previously mentioned, engage the audience as much as possible using facilitation. There is nothing worse than having an instructor read slides to an audience or lecture 100 percent of the time. This delivery method may be necessary when reading a new regulation, company policy, or work procedure to the audience, but balance this by asking attendees to interpret what was covered or share stories that can help others relate to the material. Again, any time the audience can be actively involved in the training, the more likely they are to retain the knowledge and apply it to their jobs.
Lastly, bring the energy! Make the meeting fun and show some enthusiasm. Do this by greeting the participants and avoiding speaking in monotone. You do not have to be Shakespeare, but practice your delivery ahead of time to get comfortable with the material and anticipate questions.
Additionally, there are always one or two disgruntled attendees who would rather be doing something other than attending a mandatory training, especially if the meeting is being held during their off-duty time.
Presenters must win the audience over, so make your safety meeting the place to be. Do this by greeting attendees when they arrive and by thanking them for showing up. Next, consider opening the meeting with introductions and, if not available beforehand, ask audience members to share their years of experience and time with the company.
Identifying audience demographics is a good way for the presenter to gauge how detailed the presentation needs to be, what topics may be irrelevant, and which delivery style might be most effective.
CALL TO ACTION
Schedule regular safety meetings that cover crash and injury prevention.

Prepare safety meeting agendas in advance and include representatives from all departments.

Practice the flow and delivery of safety topics, including facilitation techniques.
The information in this article is provided as a courtesy of Great West Casualty Company and is part of the Value-Driven® Company program. Value-Driven Company was created to help educate and inform insureds so they can make better decisions, build a culture that values safety, and manage risk more effectively. To see what additional resources Great West Casualty Company can provide for its insureds, please contact your safety representative, or click below to find an agent.
© Great West Casualty Company 2022. The material in this publication is the property of Great West Casualty Company unless otherwise noted and may not be reproduced without its written consent by any person other than a current insured of Great West Casualty Company for business purposes. Insured should attribute use as follows: "© Great West Casualty Company 2022. Used with permission by Great West Casualty Company."
This material is intended to be a broad overview of the subject matter and is provided for informational purposes only. Great West Casualty Company does not provide legal advice to its insureds, nor does it advise insureds on employment-related issues. Therefore, the subject matter is not intended to serve as legal or employment advice for any issue(s) that may arise in the operations of its insureds. Legal advice should always be sought from the insured's legal counsel. Great West Casualty Company shall have neither liability nor responsibility to any person or entity with respect to any loss, action, or inaction alleged to be caused directly or indirectly as a result of the information contained herein.