Rules of the Road Include Professionalism & Safety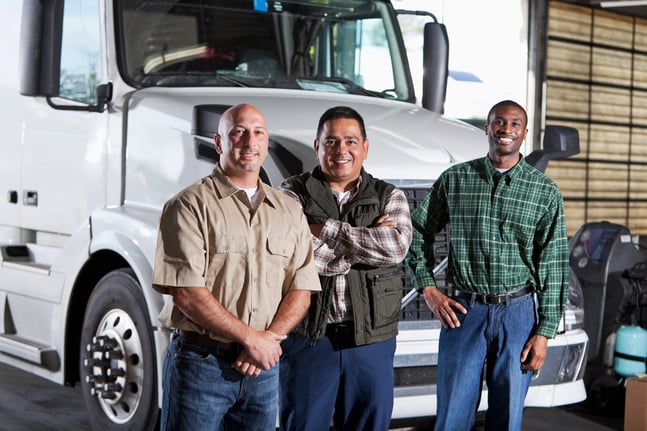 'Knights of the Road' refers to a period when truck drivers had a knightly reputation for always being helpful and courteous professionals to fellow motorists. While the term may be lost on this generation, the expectation has not changed.
A knightly image is a personal choice requiring a daily commitment to safety and professionalism. A collection of unwritten rules of the road that exemplify this code is below. Read the information below and ask yourself if there are ways you can improve your knightly image.
Be courteous and professional to others at all times.

Practice personal hygiene and maintain a professional appearance.

Get plenty of rest and pull over when feeling ill or fatigued.

Practice healthy eating habits and make time to stretch and exercise.

Observe all state laws, federal regulations, and company safety policies.

Conduct a thorough vehicle inspection before, during, and after each trip.

Use three points of contact when entering, exiting, or climbing on equipment.

Share the road, especially with motorcyclists, bicyclists, stranded motorists, and emergency vehicles.

Yield the right of way, especially in intersections, roundabouts, and merging lanes.

NEVER drive under the influence of alcohol or drugs.

Avoid distractions while driving, such as talking on the phone or texting.

Maintain proper following distance and do not tailgate.

Count seconds to gauge following distance and the speed of oncoming traffic.

Be attentive to the road ahead.

Make quick glances to mirrors, and then return your focus to the traffic ahead.

Observe the proper speed for conditions.

Do not discuss the specifics of what you are hauling in public or over the radio.

Get Out And Look before backing (G.O.A.L.).

Use a spotter and traffic control when backing up, if needed.

Maintain one lane as much as possible.

Always signal a lane change well in advance.

Know the truck's blind spots and manage the space around the vehicle.

Use the 'Lean and Look' method to check the tractor's right-front blind spot.

Prevent rollovers by slowing down below the posted speed limit before entering a ramp, curve, or turn.

If a jackknife occurs, disengage the clutch or shift to neutral, steer into the skid, and avoid using the brakes.
Note: These lists are not intended to be all-inclusive.
© Great West Casualty Company 2020. The material in this publication is the property of Great West Casualty Company unless otherwise noted and may not be reproduced without its written consent by any person other than a current insured of Great West Casualty Company for business purposes. Insured should attribute use as follows: "© Great West Casualty Company 2020. Used with permission by Great West Casualty Company."
This material is intended to be a broad overview of the subject matter and is provided for informational purposes only. Great West Casualty Company does not provide legal advice to its insureds, nor does it advise insureds on employment-related issues. Therefore, the subject matter is not intended to serve as legal or employment advice for any issue(s) that may arise in the operations of its insureds. Legal advice should always be sought from the insured's legal counsel. Great West Casualty Company shall have neither liability nor responsibility to any person or entity with respect to any loss, action, or inaction alleged to be caused directly or indirectly as a result of the information contained herein.