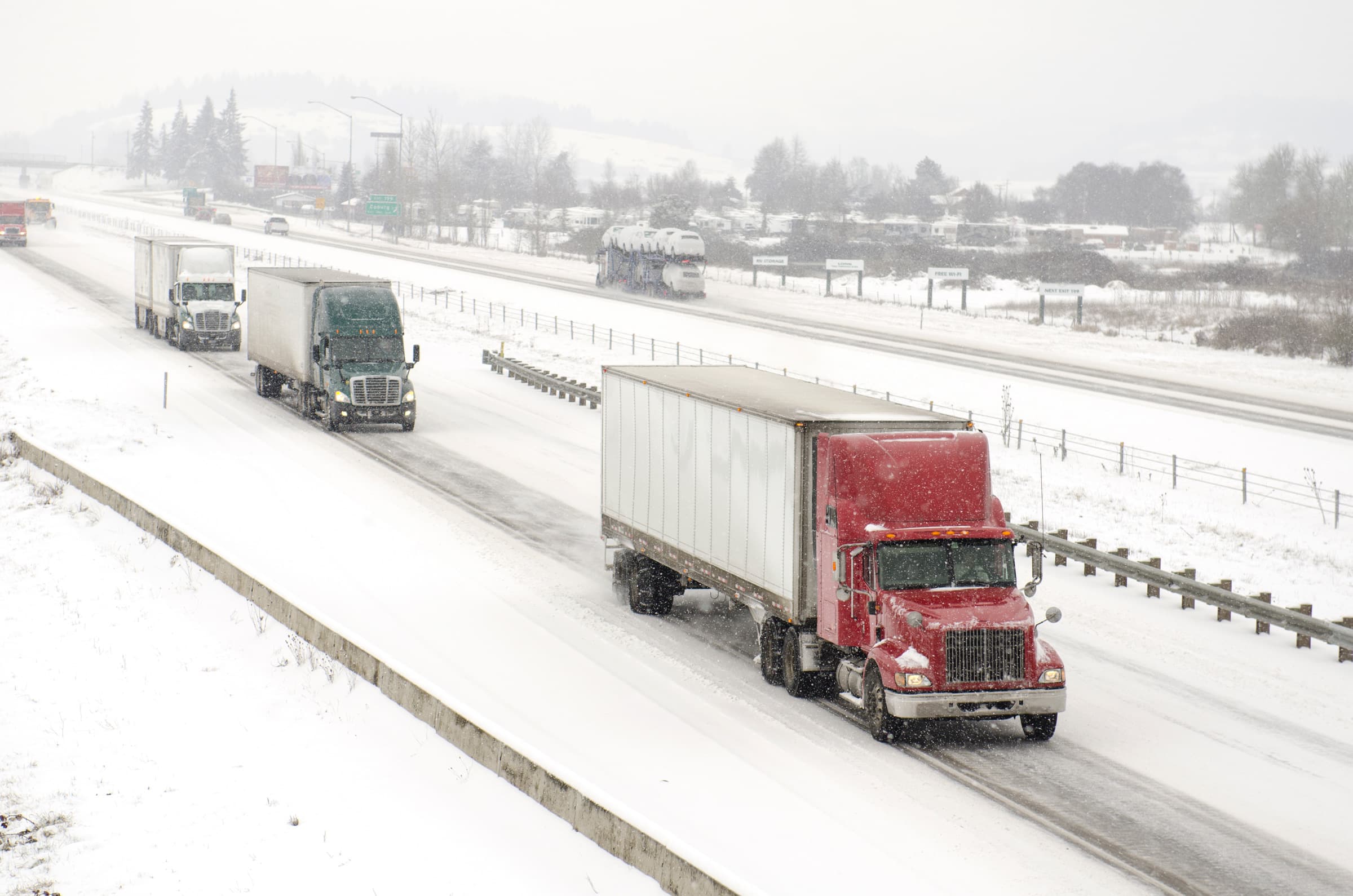 During the winter months, most of the country is exposed to adverse weather conditions that increase the risk of a vehicle crash, injury, or illness. Read the information below to learn how to recognize winter hazards, and take appropriate action to protect yourself from potential harm.
Recognize the Hazards
Environment
Winter brings many hazardous conditions, including snow, ice, freezing rain, high winds, and frigid temperatures. Sun glare is a distraction that can cause a person to overlook hazards, like potholes or ice patches. Working outside in the elements increases the risk of winter-related illnesses, such as a cold, influenza, or bronchitis.
Equipment
Hitting a pothole hard enough can damage tires and cause a slow leak or possibly a steer tire blowout. An inoperable vehicle heater or malfunctioning window defrosters create driving distractions, while damaged wiper blades can reduce visibility and potentially lead to a crash and possible injury.
Personal Behaviors
Failing to obey hazard warning signs, distracted walking, and not paying attention to one's surroundings are examples of unsafe behaviors. Likewise, choosing not to wear proper winter clothing when working outside is a choice that can lead to serious health risks.
Know the Defe

n

se
Be Aware of Surroundings
Being aware of your surroundings is the most important defense against slips, trips, and falls. Avoid distractions while walking, such as talking or texting on a cell phone, conversing with another person, or eating and drinking. Focus your attention on the task at hand and arriving safely at your destination.
Slow Down
Hurrying is a good way to lose traction or catch your foot on a hazard. In adverse conditions, such as an icy parking lot, a snow-covered roadway, or a slippery entryway, slow down to keep your footing. Also, obey hazard warning signs, like a wet floor sign near exits.
Wear Proper Shoes and Clothing
Dressing for the elements can protect you against hypothermia, frostbite, and other winter-related illnesses. Dress in layers and wear a winter coat, hat, and gloves. Wear shoes that have slip-resistant soles for extra traction, or wear cleats over your shoes.
Plan Ahead
Monitor weather forecasts before leaving on a trip. Check for winter weather warnings, road closures, and adverse conditions that may move in unexpectedly. Ensure your vehicle is winterized and the tires have proper tread. Keep an extra blanket, winter clothing, and emergency supplies in the vehicle as a precaution.
Note: These lists are not intended to be all-inclusive.
The information in this article is provided as a courtesy of Great West Casualty Company and is part of the Value-Driven® Company program. Value-Driven Company was created to help educate and inform insureds so they can make better decisions, build a culture that values safety, and manage risk more effectively. To see what additional resources Great West Casualty Company can provide for its insureds, please contact your safety representative, or click below to find an agent.
© Great West Casualty Company 2019. The material in this publication is the property of Great West Casualty Company unless otherwise noted and may not be reproduced without its written consent by any person other than a current insured of Great West Casualty Company for business purposes. Insured should attribute use as follows: "© Great West Casualty Company 2019. Used with permission by Great West Casualty Company."
This material is intended to be a broad overview of the subject matter and is provided for informational purposes only. Great West Casualty Company does not provide legal advice to its insureds, nor does it advise insureds on employment-related issues. Therefore, the subject matter is not intended to serve as legal or employment advice for any issue(s) that may arise in the operations of its insureds. Legal advice should always be sought from the insured's legal counsel. Great West Casualty Company shall have neither liability nor responsibility to any person or entity with respect to any loss, action, or inaction alleged to be caused directly or indirectly as a result of the information contained herein.