Wear proper footwear to prevent injuries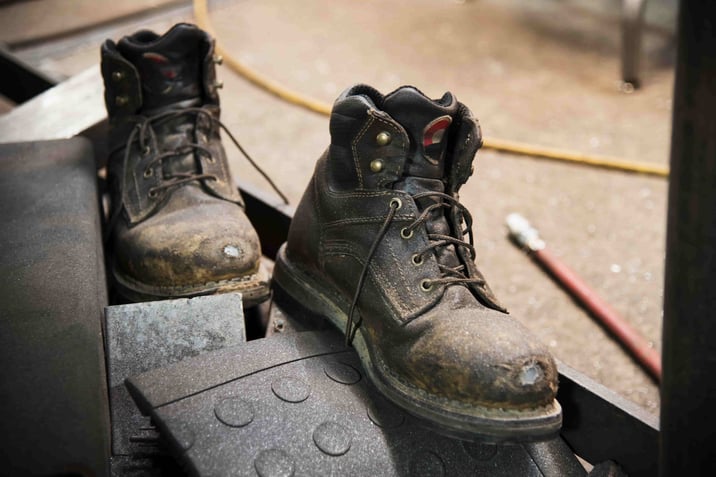 Wearing protective footwear while working around the truck can help prevent injuries. From avoiding slips, trips, and falls to protecting against objects rolling onto or penetrating your feet, proper footwear is an essential piece of personal protective equipment. Improper footwear can also be uncomfortable and lead to calluses, ingrown toenails, etc. Read the information below and ask yourself how you can better protect yourself and your feet from injury.
PROTECTIVE FOOTWEAR FOR TRUCK DRIVERS (DO'S & DON'TS)

Do – Wear footwear that meets any company- or customer-specific policy.

Do – Wear footwear with slip-resistant soles when working around the truck.

Do – Wear footwear with steel toes when working around the truck.

Do – Wear footwear made of material that can prevent punctures.

Do – Wear footwear that provides ankle support.

Do – Wear footwear appropriate for the conditions (i.e., snow, heat, etc.).

Don't – Wear shoes like sneakers, cowboy boots, or sandals that have no traction on the sole.

Don't – Wear damaged shoes that need to be repaired or replaced.
FINDING THE RIGHT FIT

Lace and tie your shoes so that shoes fit closely around the heel and ankle.

Leave at least a thumb's width of space in the toe box so your toes have plenty of room.

Allow extra room for heavy socks and arch supports.

Walk around in the shoes to check for proper fit and comfort.
FOOTWEAR MAINTENANCE

Apply a water-resistant coating, if necessary.

Inspect your footwear regularly for signs of wear and tear.

Repair or replace any damaged footwear immediately.
FOOTWEAR MAINTENANCE

Wash your feet daily with soap and water, and dry them thoroughly.

Treat athlete's foot, blisters, discolored nails, and other foot problems immediately.

Bring a backup pair of shoes on trips for emergencies.

Do not share shoes or pedicure tools with others.

Examine your feet daily for problems or changes in appearance.

Roll a tennis ball under your feet to relieve tension.

Use foot powder if needed to keep feet dry.

Trim your toenails regularly.

Always wear clean socks.

Massage your feet regularly.
Note: These lists are not intended to be all-inclusive.
The information in this article is provided as a courtesy of Great West Casualty Company and is part of the Value-Driven® Company program. Value-Driven Company was created to help educate and inform insureds so they can make better decisions, build a culture that values safety, and manage risk more effectively. To see what additional resources Great West Casualty Company can provide for its insureds, please contact your safety representative, or click below to find an agent.
© Great West Casualty Company 2019. The material in this publication is the property of Great West Casualty Company unless otherwise noted and may not be reproduced without its written consent by any person other than a current insured of Great West Casualty Company for business purposes. Insured should attribute use as follows: "© Great West Casualty Company 2019. Used with permission by Great West Casualty Company."
This material is intended to be a broad overview of the subject matter and is provided for informational purposes only. Great West Casualty Company does not provide legal advice to its insureds, nor does it advise insureds on employment-related issues. Therefore, the subject matter is not intended to serve as legal or employment advice for any issue(s) that may arise in the operations of its insureds. Legal advice should always be sought from the insured's legal counsel. Great West Casualty Company shall have neither liability nor responsibility to any person or entity with respect to any loss, action, or inaction alleged to be caused directly or indirectly as a result of the information contained herein.