Tractor–Trailer Fires: What Do You Do?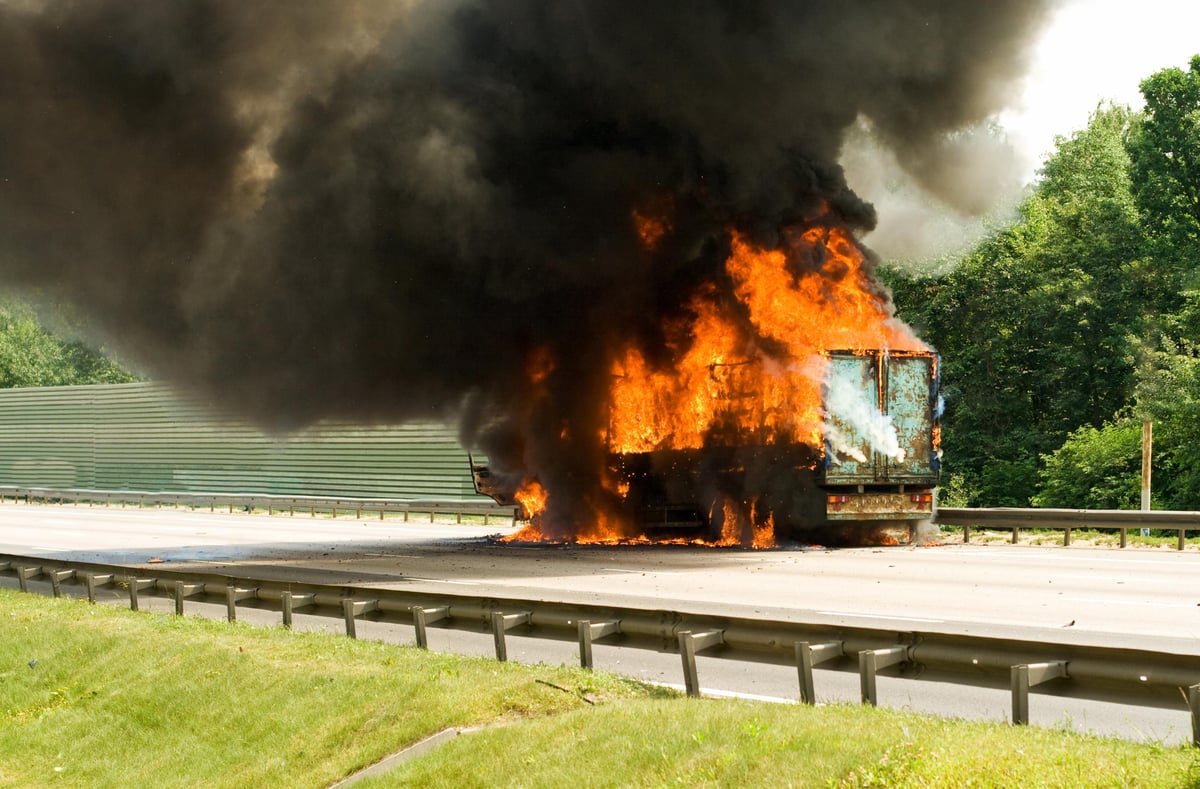 Tractor-trailer fires can result in devastating losses destroying trucks, trailers, and cargo. Fires can be the result of tires/brakes heating up, loss of axle lubricant, electrical problems, cigarette smoking, and other causes. Whatever the cause, fast action is required should a fire ever occur.You may have only a few minutes to take the steps necessary to put out or lessen the impact of a fire. Always place your personal safety ahead of the safety of the load in any fire situation.
If a fire starts or brakes start to smoke, get the truck safely stopped ASAP.
PASS Method
Use your fire extinguisher, following the PASS method:

Pull pin
Aim at base of fire
Squeeze trigger
Spray at base of fire

Use the 5th wheel puller to unlatch the pin, and uncouple tractor from trailer.

Move the tractor away from the trailer ASAP.

Attempt to put any remaining fire out with an extinguisher.

Contact the Fire Department ASAP, or have others contact them, for assistance.
To prevent fires, remember these basics:
Inspect brakes, tires, and wheels daily.

Check for grease/oil accumulation on wheels, axles, and around the engine compartment.

Check for blown wheel seals.

Be very careful with smoking materials.

Report any electrical problems to maintenance ASAP.
The information in this article is provided as a courtesy of Great West Casualty Company and is part of the Value-Driven® Company program. Value-Driven Company was created to help educate and inform insureds so they can make better decisions, build a culture that values safety, and manage risk more effectively. To see what additional resources Great West Casualty Company can provide for its insureds, please contact your safety representative, or click below to find an agent.
© Great West Casualty Company 2018. The material in this publication is the property of Great West Casualty Company unless otherwise noted and may not be reproduced without its written consent by any person other than a current insured of Great West Casualty Company for business purposes. Insured should attribute use as follows: "© Great West Casualty Company 2018. Used with permission by Great West Casualty Company."
This material is intended to be a broad overview of the subject matter and is provided for informational purposes only. Great West Casualty Company does not provide legal advice to its insureds, nor does it advise insureds on employment-related issues. Therefore, the subject matter is not intended to serve as legal or employment advice for any issue(s) that may arise in the operations of its insureds. Legal advice should always be sought from the insured's legal counsel. Great West Casualty Company shall have neither liability nor responsibility to any person or entity with respect to any loss, action, or inaction alleged to be caused directly or indirectly as a result of the information contained herein.