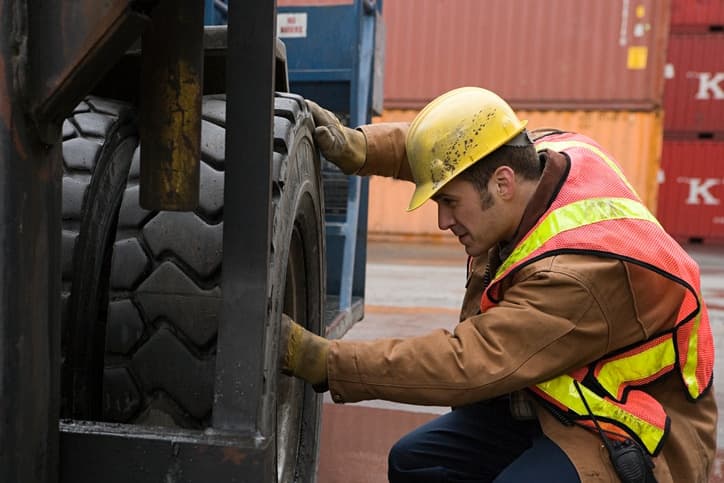 Every year, maintenance employees are seriously injured or killed when wheel components fail, causing a sudden release of air pressure or "blow-out." Most of these incidents occur due to over-inflating the tire or improperly seated tire/rim components. Anyone standing within the blast zone could be seriously injured by debris.
According to OSHA, at a minimum, employees must be able to demonstrate the following tasks, and all are to be included in the safe operating procedures established by the employer:
Wear safety glasses or goggles.
Read and follow manufacturers' instruction manuals.
Handle wheels with mechanical lifting and moving devices.
Demount and deflate tires.
Inspect and identify wheel components, pressure limits and condition of tires.
Mount and safely inflate tires inside a retaining device (tire cage), behind a barrier, or when a single piece rim is solidly bolted/mounted on the vehicle.
Never leave an air line unattended when inflating a tire.
Stand outside of the trajectory area of any parts or explosive air blasts that might be released during inflation or post-inflation inspection.
Also, employers must furnish tire safety cages or barriers for inflating single piece wheels/ tires unless the wheels are solidly bolted to the vehicle before inflation. Also, the employer must provide the manufacturer's recommended tools to service the wheels including a clip-on air chuck, an in-line valve or pressure regulator, and sufficient hose to allow the worker to stand in safe areas clear of the trajectory areas during inflation.
Note: These lists are not intended to be all-inclusive.
The information in this article is provided as a courtesy of Great West Casualty Company and is part of the Value-Driven® Company program. Value-Driven Company was created to help educate and inform insureds so they can make better decisions, build a culture that values safety, and manage risk more effectively. To see what additional resources Great West Casualty Company can provide for its insureds, please contact your safety representative, or click below to find an agent.
© Great West Casualty Company 2019. The material in this publication is the property of Great West Casualty Company unless otherwise noted and may not be reproduced without its written consent by any person other than a current insured of Great West Casualty Company for business purposes. Insured should attribute use as follows: "© Great West Casualty Company 2019. Used with permission by Great West Casualty Company."
This material is intended to be a broad overview of the subject matter and is provided for informational purposes only. Great West Casualty Company does not provide legal advice to its insureds, nor does it advise insureds on employment-related issues. Therefore, the subject matter is not intended to serve as legal or employment advice for any issue(s) that may arise in the operations of its insureds. Legal advice should always be sought from the insured's legal counsel. Great West Casualty Company shall have neither liability nor responsibility to any person or entity with respect to any loss, action, or inaction alleged to be caused directly or indirectly as a result of the information contained herein.