Entry Level Driver Training Rule: New Requirements in 2022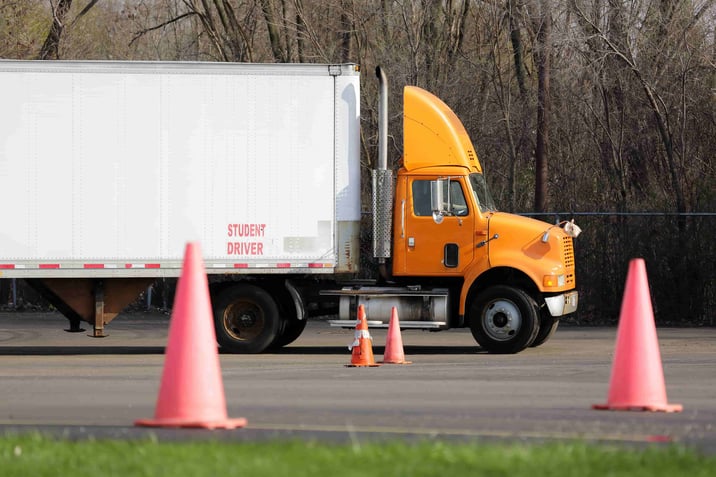 HOW WILL MOTOR CARRIERS BE AFFECTED BY THE NEW
ENTRY-LEVEL DRIVER TRAINING (ELDT) REGULATIONS?
The new ELDT rule goes into effect on Feb. 7, 2022, and all motor carriers should be aware of the changes. First, the rule is not retroactive, meaning it does not apply to individuals who currently hold a valid commercial driver's license (CDL) or have a passenger (P), school bus (S) or hazardous material (H) endorsement issued prior to Feb. 7, 2022.
The mandate applies only to individuals seeking to obtain a Class A or Class B CDL for the first time, upgrade a current Class B CDL to a Class A, or obtain a P, S, or H endorsement. It also applies to instructors.
Under the new requirements, entry-level drivers are required to complete a training program prior to taking the CDL test. This program must be provided by an entity listed in the FMCSA's Training Provider Registry (TPR) and include a theory-based curriculum and behind-the-wheel instruction.
Motor carriers must continue to comply with the old ELDT rule until the new rule takes effect. Anyone subject to the old rule prior to Feb. 7, 2022, should have a copy of the training certificate in his or her driver qualification file. Once the new rule goes into effect, motor carriers will not have any training or documentation responsibilities pertaining to the ELDT rule.
However, consider ensuring that any newly hired driver who obtains his or her CDL after Feb. 7, 2022, receives his or her training from an entity listed in the TPR. For more information about the ELDT and Training Provider Registry, visit the Training Provider Registry.
WHAT ARE THE ELDT REQUIREMENTS FOR BEHIND-THE-WHEEL TRAINING?
Behind-the-wheel training requires both range and public road instruction conducted in the class of commercial motor vehicle that the trainee will be taking his or her CDL road test in when the time comes to complete the skills test.
The new ELDT curriculum includes topics such as vehicle inspections, coupling and uncoupling the trailer, distracted driving, backing, and entering and exiting the highway, to name a few. The training provider must also teach "Get Out and Look" (GOAL) to the trainee during the backing and parking instruction.
There is not a minimum number of instruction hours required, but the TPR instructor is required to cover all of the topics included in the new curriculum. Based on the instructor's evaluation of the driver-trainee's proficiency, the total number of clock hours each driver-trainee spends to complete the behind-the-wheel curriculum will be documented, along with the results of the various theory-based instructions.
CALL TO ACTION
Reinforce the new ELDT training by incorporating Value-Driven Driving: Modules 1-4 into new employee orientation.

Have all newly hired drivers complete Value-Driven Life, Module 1-4.

Ensure all old ELDT record-keeping responsibilities are met leading up to the new ELDT rule going into effect.
The information in this article is provided as a courtesy of Great West Casualty Company and is part of the Value-Driven® Company program. Value-Driven Company was created to help educate and inform insureds so they can make better decisions, build a culture that values safety, and manage risk more effectively. To see what additional resources Great West Casualty Company can provide for its insureds, please contact your safety representative, or click below to find an agent.
© Great West Casualty Company 2022. The material in this publication is the property of Great West Casualty Company unless otherwise noted and may not be reproduced without its written consent by any person other than a current insured of Great West Casualty Company for business purposes. Insured should attribute use as follows: "© Great West Casualty Company 2022. Used with permission by Great West Casualty Company."
This material is intended to be a broad overview of the subject matter and is provided for informational purposes only. Great West Casualty Company does not provide legal advice to its insureds, nor does it advise insureds on employment-related issues. Therefore, the subject matter is not intended to serve as legal or employment advice for any issue(s) that may arise in the operations of its insureds. Legal advice should always be sought from the insured's legal counsel. Great West Casualty Company shall have neither liability nor responsibility to any person or entity with respect to any loss, action, or inaction alleged to be caused directly or indirectly as a result of the information contained herein.