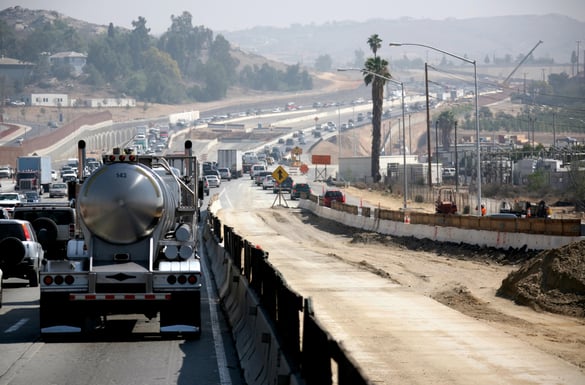 Tractor-trailers typically have a high center of gravity; this makes them susceptible to rollover crashes. The key to preventing rollovers is for drivers to be able to recognize the hazards that increase the likelihood of a crash and to take appropriate defensive measures. Read the information below and ask yourself if there are actions you can take to improve your driving skills and reduce the risk of a rollover.
Recognize the Hazards
Environment/equipment
Centrifugal force

High center of gravity

High winds

Slippery road conditions:

Ice, sand, rain, snow, etc.

Uneven road surfaces

Cargo shift

Slosh/surge of liquid commodities

Improper load securement

Brakes out of adjustment

Trailer improperly hooked or not hooked at all
Personal behaviors
Driving too fast on a ramp, curve, or turn

Overcorrecting when reacting to a hazard

Putting a wheel off the road surface

Turning the wheel too sharply

Hitting a curb and upsetting the vehicle

Distractions:

Visual — looking at anything other than the road ahead

Manual — taking one or both hands off the wheel for anything other than shifting (i.e. talking on a cell phone or changing the radio station)

Mental — mind not focused on driving (i.e. daydreaming, dwelling on a work or home issue, etc.).
Know the Defense
Essential 7 Driving Techniques
Maintain proper following distance

Maintain a minimum six seconds

Add one second of following distance for every hazard present

Observe proper speed for conditions

Reduce speed by 5-10 mph on entrance/exit ramps

Reduce speed 2-3 mph below the flow of traffic, not to exceed the posted speed limit

Adjust speed for stability based on vehicle weight and height of load

Be attentive to the road ahead

Be alert for traffic slowing or stopping abruptly

React properly to hazards

At the first sign of vehicles slowing ahead, get off the accelerator and apply controlled braking

Avoid understeering on ramps, curves, and turns and overcorrecting in reaction to hazards

Stay in one lane

Avoid distractions

Preplan your route

Avoid distractions inside or outside of the cab
Note: These lists are not intended to be all-inclusive.
The information in this article is provided as a courtesy of Great West Casualty Company and is part of the Value-Driven® Company program. Value-Driven Company was created to help educate and inform insureds so they can make better decisions, build a culture that values safety, and manage risk more effectively. To see what additional resources Great West Casualty Company can provide for its insureds, please contact your safety representative, or click below to find an agent.
© Great West Casualty Company 2018. The material in this publication is the property of Great West Casualty Company unless otherwise noted and may not be reproduced without its written consent by any person other than a current insured of Great West Casualty Company for business purposes. Insured should attribute use as follows: "© Great West Casualty Company 2018. Used with permission by Great West Casualty Company."
This material is intended to be a broad overview of the subject matter and is provided for informational purposes only. Great West Casualty Company does not provide legal advice to its insureds, nor does it advise insureds on employment-related issues. Therefore, the subject matter is not intended to serve as legal or employment advice for any issue(s) that may arise in the operations of its insureds. Legal advice should always be sought from the insured's legal counsel. Great West Casualty Company shall have neither liability nor responsibility to any person or entity with respect to any loss, action, or inaction alleged to be caused directly or indirectly as a result of the information contained herein.