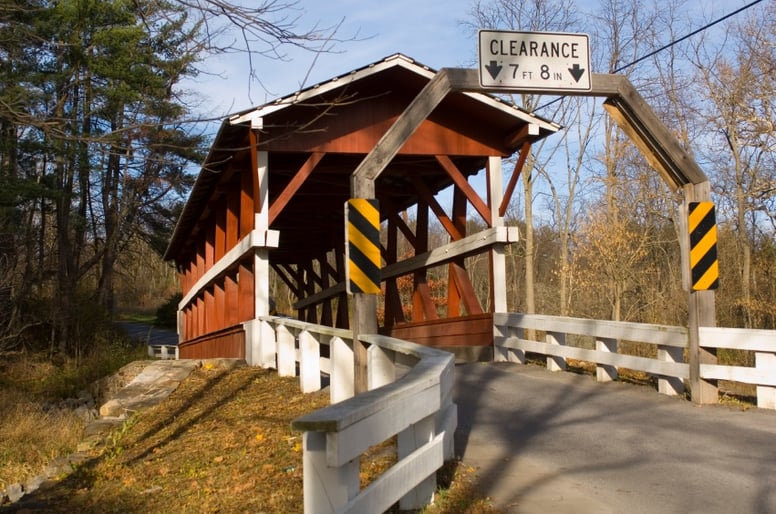 Truck drivers must be aware of overhead clearances at all times.
1. A driver cannot rely just on posted clearances; you must know the height of the equipment and/or load in order to know if there is sufficient clearance. If a clearance is doubtful, stop in a safe place and check before proceeding. Overhead clearances can be reduced by resurfacing the roadway, accumulation of ice and snow, crown/hill of the roadway, and/or uneven surface of the road.
2. Beware of bridges, tunnels, and underpasses as they may have adequate clearance in the center but not on the edge/side of the roadway.
3. On roadways with an underpass, the grade of the road may change. A vehicle/trailer/load that clears in the front, may hit on the other side of the bridge. Also, remember the load sometimes makes a difference with the overall height of the equipment.
4. When entering a warehouse, beware of insufficient clearance when driving under an overhead door. If in doubt, get out and look.
5. Check overhead clearances such as tree limbs, phone/electrical lines, canopies, etc., when driving in the city. Trees may not be adequately trimmed near roadways. Overhead lines may not be installed high enough, and the clearance may decrease as the electric/phone lines enter a building. Always check clearances when on private property, ranch roads, and well sites.
6. When driving on narrow streets or alleys, be keenly aware of lights, signs, utility poles, stairways, and parked vehicles.
For additional information on overhead clearances and tips, contact Great West Casualty Company . Also, don't hesitate to contact us with any truck insurance questions or quotes.
Follow along with our blog! You can read them all here.
© Copyright Great West Casualty Company 2017. The material in this publication is the property of Great West Casualty Company unless otherwise noted and may not be reproduced without its written consent by any person other than a current insured of Great West Casualty Company for business purposes. Insured should attribute use as follows: "Used with permission by Great West Casualty Company."
This material is intended to be a broad overview of the subject matter and is provided for informational purposes only. Great West Casualty Company does not provide legal advice to its insureds, nor does it advise insureds on employment-related issues. Therefore, the subject matter is not intended to serve as legal or employment advice for any issue(s) that may arise in the operations of its insureds. Legal advice should always be sought from the insured's legal counsel. Great West Casualty Company shall have neither liability nor responsibility to any person or entity with respect to any loss, action, or inaction alleged to be caused directly or indirectly as a result of the information contained herein.