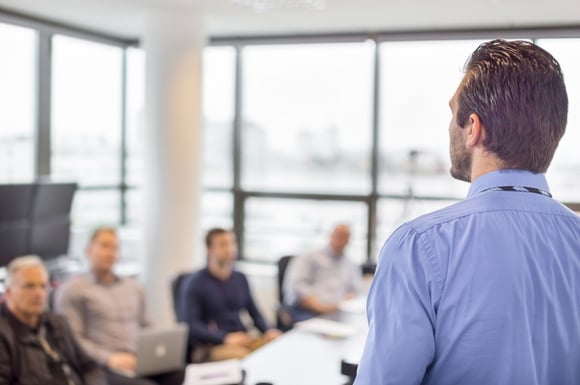 You have probably participated in safety meetings, either as an attendee or a presenter. Think back to some of the better meetings you attended. What was it that made it a particularly effective or worthwhile event to attend? Memorable training events probably have something to do with the preparation and forethought put into the meeting. It may have been enhanced by a real world personal experience or a concerted effort to interact with participants.
Small group discussions, formal meetings, or individual meetings are all great opportunities to encourage desired performance. Put yourself in the position of the employee attending the training and ask yourself, "What would I like to see in an effective meeting?"
Tips to Help Improve Your Existing Training:
Try to schedule formal meetings in a location which is free of distractions and noise. An offsite location may involve some expense, but it might be a better environment that could greatly enhance the experience for employees.
Set a time frame and meeting length and stick to it. If

you have other issues to discuss which could involve possible "gripe sessions" save that for after the training and education portion.

Involve employees in your training and education which will enhance and improve the retention of learned concepts.
Make certain that any video you show conveys the concepts you want to teach. Set equipment up beforehand and be certain everything is in working order. Videos should be just one tool used in a meeting. Employees need to hear from YOU and know what you consider important – a video or an outside speaker cannot convey that message.
Tolerate difference of opinion on some subjects as a means to learning within reason. For example, if a driver says, "You can't maintain a six-second following distance," be prepared to demonstrate how this is possible. Do not compromise on those values or principles you and your company hold to be absolute. For example, there is no excuse for not wearing a seat belt or not using the three- point entry and exit.
Don't be nervous. No one is born a natural public speaker. Speak from the heart and show passion. There are non- pro t groups that can help you improve your public speaking. Toastmasters International is a non-pro t organization established to help professionals improve their public speaking, no matter your background or prior experience. To find a local chapter visit www.toastmasters.com.
Be diligent about planning and execution if it is challenging to get employees together for large group meetings. Think about the topics you need to cover and develop your resources. Plan to work down your list and spend some time with each employee, individually or in small groups, to cover your topics. Make it as interesting as possible, personalized, and interactive. Get creative!
Document your training with sign-in sheets and a list of topics. It can be difficult to remember exactly what you covered over time. It can also help you in holding employees accountable and in possible litigation.
Large group surveys of drivers have rated effective training and education as key in their assessment of the quality of a trucking company and job satisfaction over the long term. Take some time to take a hard look at your training and education programs today. Your employees will appreciate your efforts!
For any questions on truck insurance or to request a quote, contact Great West Casualty Company below.